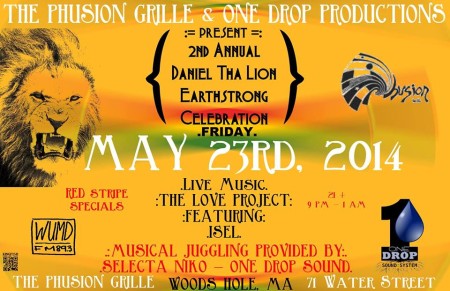 When I hear the phrase "soul sista" one young Cape Codder comes to mind. Isel Garcia-Renart of Falmouth is an amazing talent with an even more amazing voice. She is on of the top female acts here on the Cape and should not be missed. Her smooth soulful sound gives you that "Right by the beach boooyyy" feeling. Her 13 track self titled album came out in 2009. With such jams as "Herbal Remedies", "Lovesong" and "Better Things".
Isel and reggae D.J Selectah Niko Onedrop will be kicking off summertime in Woods Hole this Friday at Phusion from 9 p.m-1 a.m, with "The 2nd Annual Daniel Tha Lion Earth Strong Celebration". Phusion will be having a special deal on Red Stripe all night. If you love reggae and great live music (or Red Stripe) you need to mark Friday on your calender as a don't miss. Isel has some very talented friends from across the Cape and I wouldn't be surprised if a few of them stop by on Friday to help celebrate Tha Lion and summertime.
P.S- A little secret Isel (A.K.A Olive Mia) also performs with The Brazen Belles Burlesque troupe.
Facebook: The Real Cape
Twitter: Hippie - Insane Tony