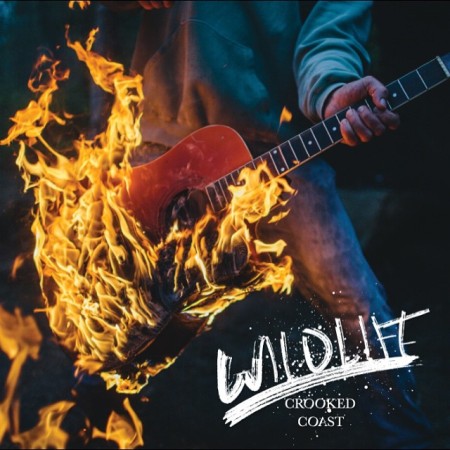 There are a ton of perks (not that kind) working for The Real Cape. The huge checks, helping with The Real Cape Music Festival, meeting music legends and pretty much getting to say what ever the fuck I want are just a few of them. A recent perk was being invited to the abode of Crooked Coast band member Luke Vose a few weeks ago to get a sneak preview of their new album WILDLIFE.
Luke and I sat down over a few brews and some whiskey and listened to each track as he gave me insight to each song. Let me tell ya these guys are stepping it up after their last album "Thanks For The Memories". I haven't stopped listening for 2 weeks now (still trying to pick my jams). This album has been put together with a shit ton of love, sweat, and booze.
From the opening intro you can hear they mean business right out of the gate. With 11 tracks on the album you hear some of the bands early influences coming out. From Rancid, Black Sabbath, and Blink 182, this CD has something for everyone. The boys even tangle with some countryish jams.
Here are few bangers off WILDLIFE that caught my ears so far.
"Had A Ball"- This covers all the great and insane times they have had together, kind of a love song to each other. Oh ya and any song that talks about smashing fruit is on my jams list.
"Martyr"- This country punk song is about the tough times. Also you just never know what somebody else is struggling with.
"No Caroline No"- This one came fast to the Johnny Mac in the studio. You can feel the fun they are having on this one.
"World Spins"- This is a feel good summer time jam. It is bass and drum driven and Ben and C-Money drive the car right through the front door on this track.
"Comin' Down"- This one has a little different feel than the rest of the tracks. A little more mellow and a touch of mother fuckin' slide guitar.
"Dreamer"- This is one that jumped out of the speakers at me. This has a little jam hop feel to it. Also the old school references get me every time. Plus you always have be a DREAMER.
I don't wanna give the entire album away, so I only covered a few of the JAAAAAMS. As I sit here listening over and over again I realize that his whole album is a banger. WILDLIFE has a little something something for everyone , no matter what your taste is. You can get a hard copy at any upcoming Crooked Coast show or online here https://crookedcoast.bandcamp.com/.
Keep your eyes out for to catch the boys out live, they put on one hell of a show. Upcoming gigs include Grumpys Pub, MV Sound Music Festival, The Real Cape Music Festival and Sandy Dicks Booze Bar.
Facebook: The Real Cape
Twitter: Hippie - Insane Tony