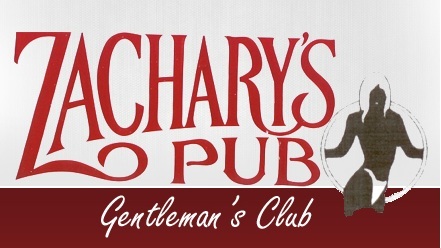 MASHPEE — Billing itself as the Cape's only licensed "gentlemen's club," Zachary's Pub is up for sale for $4.3 million.

In addition to the strip club, the offering includes 50 single- and multi-family residential units in 13 buildings on 6.17 acres of land and a full laundry facility, according to John Ciluzzi, president of Premier Commercial, who announced Monday he had been retained to market and sell the property.

The sale also includes all alcohol, entertainment, floor show, lottery, tobacco, amusements, billiards, dancing and laundry licenses, although they would have to successfully go through the transfer process with the town and the state to be valid for a new owner.

The key that has allowed Zachary's to be Zachary's for decades is the floor show permit, according to Ciluzzi, who said he expects the sale to draw national interest. But the opportunity is there for new uses of the 100 Great Neck Road North property.
OK let's get real, the 50 single and multi unit family residential units in 13 buildings are worth precisely negative $100,000 dollars, because that's how much it would cost to tear those shit holes down. We are talking about cinder block buildings that aren't quite as nice as where Michael Vick executed his dogs that sucked at fighting.
So that puts us at $4.4 million dollars. Now let's add up the lottery, tobacco, billiards and laundry licenses and we are at…. let's be generous and give them a net worth of $50k. The billiards table give dudes something to do while there's an ugly girl on stage, people definitely like to smoke and whatever Mashpee River monsters live in those multi family residential units must wash their clothes sometimes I guess?
So that puts us at $4.35 million dollars. Now lets talk about the alcohol. A $6 drink in a 8 oz. plastic cup goes a long way when testosterone filled meatheads are downing them two at a time. Most seasoned vets know to get a Grateful Dead in order to get the most bang for their buck, but most drool covered accountants waving $20 bills for the exact same attention a dollar will get you don't know the tricks of the trade. Either way let's put booze at a million bucks a year, the place does well in that department.
So here we are at $3.35 million dollars. Let's talk Real Estate, the main building is worthless, it's going to need a million dollar rehab to be remotely respectable or up to code, but the land alone is worth probably that $1 million, so that's a wash.
So now we are still at $3.35 million and all we have left is the "floor show" license. So any investor has to ask themselves this very simple question. Is it worth $3.35 million to show naked women who dance to crappy 80's music to shitfaced plumbers, carpenters, electricians, and other local businessmen who need to park their vehicles hidden around back so nobody sees the name on the side?
I say yes, it's the only place on Cape Cod where a drunken fool can do what he really wants to do at every restaurant he goes to. He can see the chicks that work there naked. End of story…
So the official assessment is that boobies are indeed worth 3.35 million dollars. The question is, do you want to buy all that other useless crap that comes with it?
Facebook: The Real Cape
Twitter: Hippie - Insane Tony

More Articles From The Real Cape: