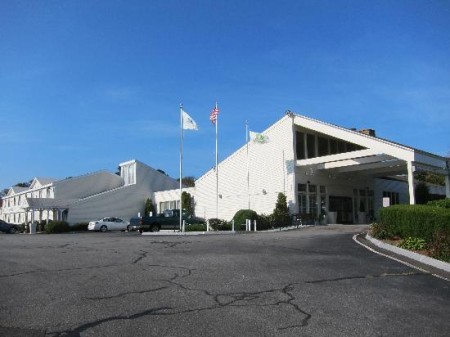 CapeCodOnline.com – A 27-year-old Fitchburg man is accused of faking his way into a hotel room and ordering two helpings of breakfast from room service before allegedly stealing a 40-inch flat-screen TV, court records show.

Jose Mulero pleaded not guilty in Falmouth District Court on Tuesday to charges of breaking into and entering a building during the daytime, larceny of more than $250, malicious destruction of property under $250 and defrauding an innkeeper over $100. He was released on $100 cash bail and ordered to stay away from the Holiday Inn in Falmouth.

Mulero and an unidentified woman allegedly went to the hotel clerk on the morning of July 16 and asked for a new key to Room 228, records show. The couple then ordered breakfast including bagels, orange juice and bacon from room service, records show. A short time later, a second order was placed for another breakfast item, records show.

The breakfasts, totaling $37.76, were charged to the room and included a total of $30 in tips, according to receipts included with court records. No credit card was attached to the room, records show.

A manager investigating the lack of a credit card knocked on the door and, upon entering the room, discovered the TV missing and the window open.
We have a staunch history here at The Real Cape of calling out dumb Cape criminals, but I have to say this one has me on the fence. You kind of can't knock the hustle here. First Bonnie and Clyde pull a straight Jedi mind trick on the person at the front desk and get them to just hand over the key to a room that is not booked. Next, they not only order breakfast, but they have seconds? Oh and throw in a 79% tip on a non existent credit card and we've got some pretty boss moves going on.
To top the morning off, they somehow get a 40″ hotel TV off of the night stand it's bolted to and slip out the window leaving the clerk to find nothing but a cool Cape Cod breeze. The only way this could have been any better is if they had signed the bill "Keyser Söze".
So after further review I have to be honest and say that while I don't like them, I kinda respect these two for pulling this off. Rookie move on their part to leave fingerprints, but other than that it's pretty much a perfect crime. At the very least the court should drop the "defrauding an innkeeper over $100" charge against them right? Is that even a real charge? If we are making up fake shit then the inn keeper should be booked on three counts of being a straight sucka.
Facebook: The Real Cape
Twitter: Hippie - Insane Tony