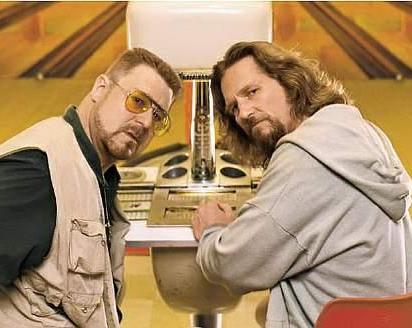 MVGazette.com – A planned bowling alley and restaurant in Oak Bluffs was unanimously approved with conditions Thursday night by the Martha's Vineyard Commission.

Reid (Sam) Dunn's Cottage City Bowling now goes to the town where it needs approvals at the local level.

The architect wants to redevelop four lots on Uncas avenue into a 13,500-square-foot building with 10 bowling lanes, a 44-seat restaurant, 18-seat bar, game room and event room. Two affordable apartments and a 32-car parking lot are also planned.

The plan has been the focus of much discussion in town and at the commission, which received a large volume of letters from people both for and against the project. Noise, intrusion on a residential neighborhood and the plan to have a full bar were all points of concern.
The Dude Abides! Chalk up another victory over The Fun Police! We wrote about this issue a while back when it looked like this project was going to die a "death by a thousand cuts" according to the developer. Am I saying that I think The Real Cape had something to do with this specific vote? No, I would never make such a claim. All that I am saying is that The Real Cape definitely had something to do with this.
What I mean is that our snarky opinions on The Fun Police probably didn't directly affect this bowling alley. But maybe, juuust maybe we are chipping away at the status quo? Maybe the good guys are starting to get a little more vocal and active when it comes to taking back Cape Cod?
Maybe the Fun Police are realizing that they've pushed the normal people too far and they are starting to retreat to their caves and condo complexes. This could be a sign of a changing tide in the general attitude towards fun, entertainment and the ability to enjoy ourselves once in a while on The Cape.
All of you douchebags that have nothing better to do with your lives than to complain about other people actually enjoying theirs are officially on notice. This may be one small step for Martha's Vineyard, but it is one giant leap for Cape kind! F#@k The Fun Police! Take back Cape Cod!
Facebook: The Real Cape
Twitter: Hippie - Insane Tony