It's hip-hop Friday here at The Real Cape headquarters. For the local music lunch hour we have picked one of the grinders of the cape music scene.
Ceej McElro (Mighty Ceej) is a workhorse and a staple of the deep hip-hop community here on The Cape. Peace, love and Hip-Hop is his motto and he brings that to every live show as well as his 5 full length studio albums. Ceej has shared the stage with some of the legends of the game, such as Talib Kweli, Nappy Roots, Slum Village, The Pharcyde, Pete Rock & CL Smooth, Masta Ace, and Marcelo D2.
His album "Stereo Fame" was recorded in L.A, at The Killingsworth studio, and his latest album "Out of the cave" was recorded in Boston at Echo studios with Robbie Rowland. He is back in the studio working on a new album as we speak.
If you are a fan of hip-hop you need to make sure to catch Ceej at one of his live shows. He will be performing next with Afroman on December 27th.
All of his albums are available for free download at mightyceej.bandcamp.com as well as itunes. You can also catch up with him on Facebook or Twitter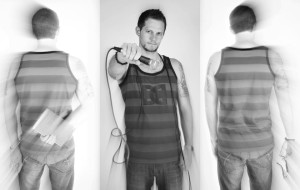 Facebook: The Real Cape
Twitter: Hippie - Insane Tony