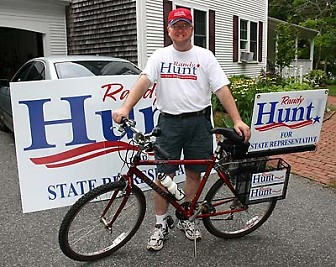 capecodtoday.com – The Committee to Elect Randy Hunt will host LOL with Randy at the Cape Codder Resort in Hyannis on Saturday, January 25, 2014. The fundraiser, once called LMAO with Randy, but deemed too racy by some, will feature two Boston comedians: Ira Proctor and Mike Whitman. State Representative Randy Hunt (R-Sandwich), represents the 5th Barnstable District. Hunt will be running for re-election in 2014.
Say what you will about Republicans but don't ever say they don't bow to political pressure. Unless of course it comes to the use of adolescent acronyms. In that case LMAO was just too racy and LOL was really the only way to go. I was personally all set to go to this event until I realized the change. I am just not content to Laugh Out Loud. If I am paying money for a show you can bet I am looking to Laugh My Ass Off.
I was all set to say that any other political leaders looking to get laughs and votes should team up with The Real Cape. Then I realized that if LMAO is too racy for politicians then they probably shouldn't get within five miles of our asses. Although our plan to let all the Piping Plovers die so we could have a more direct path from our beach chairs to the snack bar seemed kinda popular.
Facebook: The Real Cape
Twitter: Hippie - Insane Tony