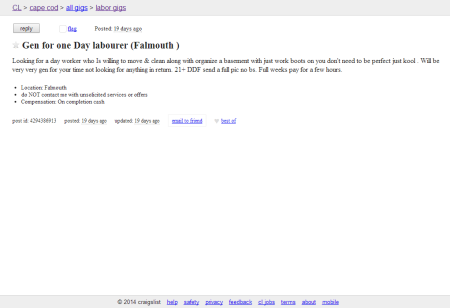 CL – Gen for one Day labourer (Falmouth)

Looking for a day worker who Is willing to move & clean along with organize a basement with just work boots on you don't need to be perfect just kool . Will be very very gen for your time not looking for anything in return. 21+ DDF send a full pic no bs. Full weeks pay for a few hours.
I like how this guy puts DDF (drug and disease free) in the ad. If you find a guy on The Cape in February and he is willing to clean another dudes basement, naked, in work boots, there is a 127% chance that the guy has at least one disease or is on some kind of drug.
I think whoever placed the ad might have to lower his standards a bit. If you want a guy to organize your basement in a pair of Timberland's and his birthday suit, you have to expect at least crabs in return. That's just par for the course in the Craigslist naked guy wearing boots cleaning basement game.
P.S. "You don't need to be perfect".  Umm… yeah, no shit. I'm pretty sure you aren't finding a nekkid Brad Pitt on the Cape Cod Craigslist in February.
Facebook: The Real Cape
Twitter: Hippie - Insane Tony