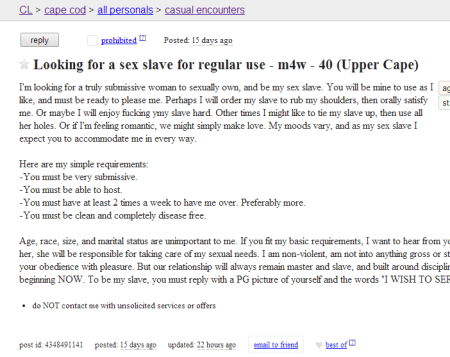 Craigslist. org I'm looking for a truly submissive woman to sexually own, and be my sex slave. You will be mine to use as I like, and must be ready to please me. Perhaps I will order my slave to rub my shoulders, then orally satisfy me. Or maybe I will enjoy fucking ymy slave hard. Other times I might like to tie my slave up, then use all her holes. Or if I'm feeling romantic, we might simply make love. My moods vary, and as my sex slave I expect you to accommodate me in every way.

Here are my simple requirements:
-You must be very submissive.
-You must be able to host.
-You must have at least 2 times a week to have me over. Preferably more.
-You must be clean and completely disease free.

Age, race, size, and marital status are unimportant to me. If you fit my basic requirements, I want to hear from you. I am only looking for one slave, and when i find her, she will be responsible for taking care of my sexual needs. I am non-violent, am not into anything gross or strange, and will always treat you well and reward your obedience with pleasure. But our relationship will always remain master and slave, and built around discipline. I expect subservience right from the start, beginning NOW. To be my slave, you must reply with a PG picture of yourself and the words "I WISH TO SERVE".
Holy shit. Take it down a notch or two there Captain Caveman. It's an absolute mystery why you are forced to place ads on Craigslist. It's truly shocking that you don't have women breaking down your door on a regular basis. Oh wait, that's right you put "must be able to host" which directly translated from Craigslist speak into English means "I live with my parents".
I might try my hand at one of these ads just to see if there are women who actually fall for this shit. Here is my first draft:
I'm looking for a submissive woman to own. Meaning legit unpaid labor. I live alone and I'm a slob so I may tell you to mop the floors, I might have you scrub the shower, depends how master is feeling that day. Maybe I'll have you make me a roast beef, maybe a pastrami, who knows my moods vary.
My simple requirements:
must clean my house
must do my laundry
must do dishes
must make me sandwiches
I am non violent and not into anything gross, well you might have to cut my toenails, but nothing strange. Must be 100% subservient and respond with "I WISH TO DO ALL OF HIPPIE'S MUNDANE CHORES!" in the subject line so I know you are serious. Oh and no weirdos please.
Ladies, please don't email more than once, I'll try to respond to each one of you if I can.
P.S. I just re read this and the ad I wrote sarcastically trying to be as awful as possible is actually less awful than the other guys. Dude is next level.
Facebook: The Real Cape
Twitter: Hippie - Insane Tony