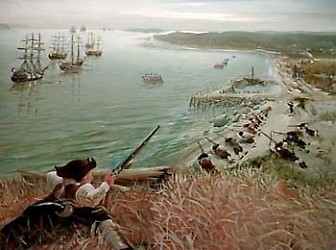 CapeCodToday.com – On this day in 1779, a fleet of ten British vessels sailed over from Newport, RI to make a raid on Falmouth, MA.

After an overnight rendezvous off Naushon Island south of Woods Hole, the fleet, consisting of two schooners and eight sloops, attacked on the following morning (April 3rd) and maintained a cannonade of cannon-ball, double-headed shot, grape shot from eleven in the morning until dark.

Their landing party consisted of 220 men in ten small boats, which were repulsed successfully by about 50 of the Falmouth militia and another group of Sandwich militia who were dug in the shore near the Old Stone Dock (on the present Surf Drive) with Major Joseph Dimmock in charge of a determined body of defenders.
We do our fair share of complaining on Cape Cod these days. We worry about crime and drug addiction. The fun police are trying to shut down every good establishment. Windmills and nuclear plants are freaking everyone right the fuck out, but at least we don't have to worry about a fleet of ships full of crooked toothed soldiers landing on the shore and attacking our pilgrim asses with muskets.
How about Falmouth and Sandwich coming together to defeat the limey pricks that attacked us though? It just goes to show you what a united Cape Cod is capable of. If we can defeat 220 Red Coats with a rag tag army of 50 then we can sure as shit band together to defeat the fun police and the degenerate criminals to take back Cape Cod!
They can take our live music, they can steal our copper pipes, but they'll never take… our FREEDOM… to have a good time.
Facebook: The Real Cape
Twitter: Hippie - Insane Tony