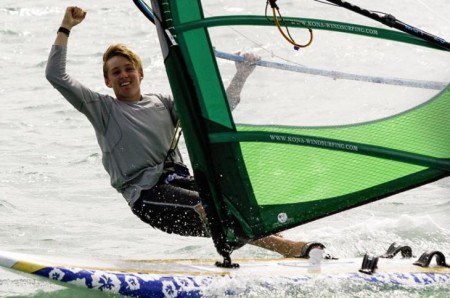 Vineyard Gazette – Rasmus Sayre, a senior at the Martha's Vineyard Regional High School, took home the championship title in the Kona One class on Wednesday [November 5, 2014], after five days of racing in Islamorada, Florida. Sayre, 17, won six of 12 races.

One hundred and six sailors representing 13 countries took part in the competition, according to a press release. Danish windsurfer Tim Aagesen picked up the silver medal.

Rasmus wasn't the only Sayre to compete at Worlds. His father, Nevin, a former world champion himself, took third place. Older sister Solvig finished 11th.
Jesus Mary and Joseph, it's not even fair how badly Cape Cod is dominating this year. We've got big league pitchers winning awards, billboard chart topping singers, the future Miss Massachusetts, and the list just keeps getting bigger as we add a windsurfing world champion.
No wonder the New York Times said Cape Codders are doing so great. It's probably just a matter of time before someone from Cape Cod cures cancer and builds a colony on Mars. Is there anything that Cape Codders can't do?
Facebook: The Real Cape
Twitter: Hippie - Insane Tony