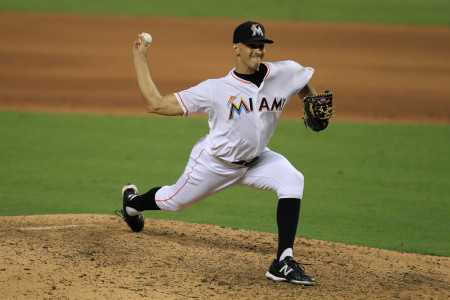 Mlb.com – Steve Cishek doesn't seek much individual attention, but the Marlins closer fully embraces the honor of being named Miami's 2014 nominee for the prestigious Roberto Clemente Award.

"It's an awesome award," Cishek said. "It's something I'm really thankful for; to have your name tied in with Roberto Clemente is a humongous honor. It's probably the greatest award I've ever received. The way he demonstrated himself on and off the field, it is something every player wants."

The Marlins will recognize Cishek's nomination pregame at Marlins Park on Sunday before they face the Nationals.
Cishek is one of the 30 club finalists for the annual honor, which recognizes an MLB player who best represents the game of baseball through positive contributions on and off the field, including sportsmanship and community involvement.

The past three seasons, Cishek has served as the spokesperson for the Bunkers in Baghdad program, which provides golf supplies to the troops.

"It piqued my interest because I like golf, but I talked to one of my friends who is on a naval ship," Cishek said. "I told him about the organization, and he was just ecstatic about it. It surprised me.

"He said, 'Anytime we can get something sent from back home, it means the world to us, because we've been on the ocean for three to six months.'"
How about Falmouth's own Steve Cishek? Not only is he having a career year as the Florida Marlins closer, he's also making a difference off the field. No biggie, The Cape is just spitting out talent resulting in Billboard chart topping songs and dominant Major League Baseball closers. Not bad for a peninsula full of drug addicts.
Voting opened today for the Roberto Clemente award, take a minute out of your day and go vote for Steve. He's out there representing Cape Cod mowing down batters and supporting our troops, let's show our appreciation as a community by supporting him at the ballot.
CLICK HERE to vote for Steve
Facebook: The Real Cape
Twitter: Hippie - Insane Tony