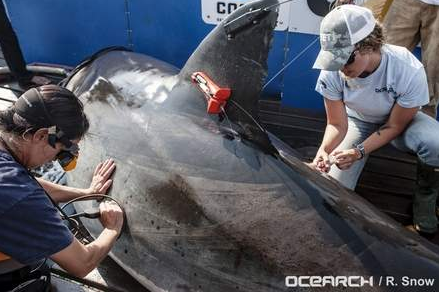 NJL – A great white shark has been tracked from Cape Cod to Daytona Beach, a researcher with the nonprofit group Ocearch said Monday night.
The 14-foot, 2-inch shark named "Katharine" weighs 2,300 pounds and was last located early Sunday night a couple miles off the shore of Daytona Beach, said Chris Fischer, a founder of Ocearch.
So I was all set to start making jokes about how Cape Cod sharks probably wear socks with sandals and blue blocker glasses while they are swimming eight miles an hour around Florida during the winter months. I had a couple of good ones lined up about early bird buffets and AARP discounts at the gill doctor too but then I got hit with the last paragraph of the article.
Ocearch was formed in 2007 to bring attention to the plight of sharks, 200,000 of which are slaughtered a day and 73 million a year for soup and food, Fischer said.
What in the who the huh? 73 MILLION sharks a year become soup!? This is alarming to say the least. You might think I am about to go on a rant about endangering these majestic creatures but fuck that noise! Do you realize what this means?
It means that there are most likely BILLIONS of other sharks out there. Up until this moment I thought sharks were like Ferrari's, like yeah they're out there but you barely ever see one. Turns out they're Toyota fucking Camry's. This is it for me, I am never swimming in the ocean again. This is a drastic decision for a Cape Codder I know, but if we are killing 73 million a year and they aren't extinct yet then we are probably just pissing them off. Most likely they are planning a massive strike against all of us at once and when it happens my ass is going to be planted firmly on terra firma.
P.S. 200,000 a day, A DAY!
Facebook: The Real Cape
Twitter: Hippie - Insane Tony