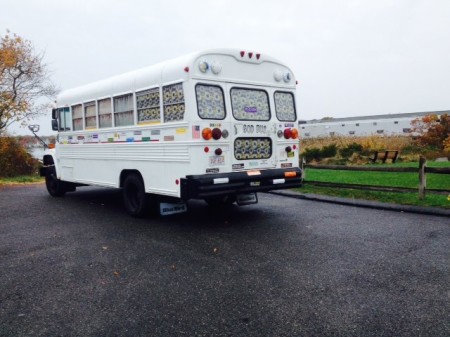 PLYMOUTH – A homeless Level III sex offender called local police Monday to complain that he was being harassed while looking for a place to live in town.

Capt. John Rogers said the man is properly registered as a sex offender in Dennisport and is complying with requirements for homeless offenders to check in with police every 30 days. He is traveling in a converted white school bus outfitted with decorative curtains and an assortment of bumper stickers.

The man called police just before 2 p.m. Monday to report he was being harassed while parked at a restaurant on Samoset Street. Police determined the bus was too large for the parking spaces there and asked him to leave.
Oh boo hoo! People aren't rolling out the welcome mat for your customized diddle bus? Are the upstanding members of society being big meanies to the level 3 sex offender that keeps lingering in public places? No red carpet for a dude that police have deemed to be at a "high risk" of re offending?
Hey, you know what's a good way to keep from being harassed? Don't be a registered sex offender and then go on a tour of our public places in the same type of vehicle that children ride to school everyday. Maybe a level 3 sex offender should keep a low profile instead of going on some super creepy Magical Mystery Tour.
Sorry we're not sorry bro… no sympathy for the devil.
P.S. Nice work everyone, we've made this guy famous.
Facebook: The Real Cape
Twitter: Hippie - Insane Tony