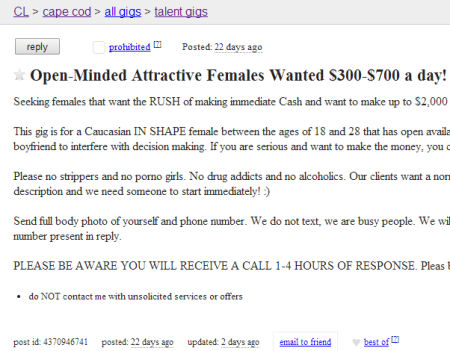 Craigslist.org – Seeking females that want the RUSH of making immediate Cash and want to make up to $2,000 a week.

This gig is for a Caucasian IN SHAPE female between the ages of 18 and 28 that has open availability, A VEHICLE OF YOUR OWN, NO children and NO boyfriend to interfere with decision making. If you are serious and want to make the money, you can with us.

Please no strippers and no porno girls. No drug addicts and no alcoholics. Our clients want a normal female with a sensual touch. Erotic body rubs is your job description and we need someone to start immediately! 🙂

Send full body photo of yourself and phone number. We do not text, we are busy people. We will not answer ANY QUESTIONS without a photo or phone number present in reply.

PLEASE BE AWARE YOU WILL RECEIVE A CALL 1-4 HOURS OF RESPONSE. Pleas be available to speak when replying. THANK YOU!
Okay let's see here, I think we will need to do some math. This person is looking for girls who want to be whores but must be all of the following things:
Caucasian
Attractive
In shape
18-28
Own a vehicle
No children
No boyfriend
Not a stripper
Not a porn girl
Sensual touch
Not an alcoholic
Not a drug addict
Ummm… dude. There are tens of thousands of guys on Cape Cod that are looking to find a girl with all of these traits to treat well and make their wife. These men are unsuccessful in their search for years. I'm pretty sure that after you go down your list there are like eight women left on Cape Cod and you want to hire them to be prostitutes?
I hate to be the bearer of bad news on this one buddy but you might want to move to Amish country, because the odds of you finding girls with all of these qualities on Cape Cod that are willing to perform sex acts for money is about as good as the odds of me being hired by the Audubon Society as the official spokesperson for preserving the natural habitat of the Piping Plover.
Facebook: The Real Cape
Twitter: Hippie - Insane Tony