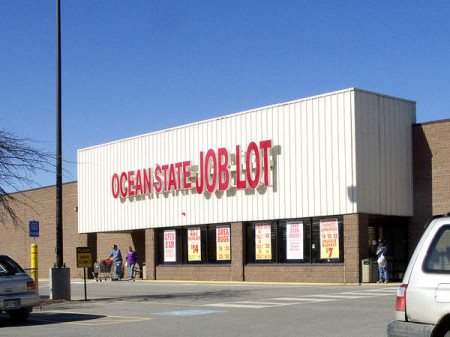 BizJournals.com – When you visit an Ocean State Job Lot store, some days it can seem like you can buy almost anything there: silverware, dog food, socks, garbage cans, a kayak. But starting this month, there's something new amid all the clutter at a few of the stores: alcohol.

The North Kingstown, R.I.-based retailer has become the latest to try to take advantage of a relatively new Massachusetts law to modestly raise the cap on the number of locations where a company can sell alcohol. It used to be that a retailer could only sell alcohol in three locations. But years of lobbying by the supermarket industry, and the threat of another high-priced ballot question over this issue, led to a legislative compromise in 2011. Now, retailers can sell alcohol at up to five locations, and this number will eventually rise to nine in 2020.
Game Changer! Now when you go to get a $12 area rug that smells like smoke and your $0.99 spices you can pick up a 30 pack that was damaged in shipping as well. What a country!
The best part about this news is that Ocean State Job Lot is a right of passage for kids moving out of their parents home for the first time. Whether you are going to college, the big city, or just down the street to a basement apartment, every one of us has hit Job Lot for a cheesy pot and pan set, package of drinking glasses and silverware bundle. Now part of the move-out starter kit can include the most important necessity in any newly independent young adults life… Alcohol!
P.S. Is it a coincidence that they can sell alcohol at five stores and they have exactly five locations on Cape Cod? Well… yes, the answer is yes, but if they are smart they will stock them all with some discount booze.
Facebook: The Real Cape
Twitter: Hippie - Insane Tony
More Articles From The Real Cape: