Yesterday, at approximately 6 p.m. The Cape Cod Garbage Man ended his own Twitter life. He is at peace now. At this time his Twitter followers ask that you press play and listen to the above song while you read today's ceremony.
The Twitter life is a tough life, an unforgiving life and unfortunately The Cape Cod Garbage Man wasn't cut our for it. It turns out the limelight was no place for such a gentle Twitterer. Apparently he was concerned about his image and in the end he took his own Twitter life. Public life just isn't for everyone I guess. The Cape Cod Garbage Man lived a good Twitter life and although it was short he left us with the gift of laughter.
Let us all bow our heads and pray.
Our Garbage man, Who art in Heaven,
Hallowed be thy name
Thy garbage come
Thy trash get done, on earth as it is in Heaven
Give us this day our weekly trash pick up
Unless of course it is a Holiday
And then it is the day after our normal day
And lead us not to the dump
But to SeaMass to recycle. Amen.
Let us now observe a moment of silence…
.
.
.
…The Twitter followers would like to thank you all for coming. Until we Tweet again Cape Cod Garbage Man, until we Tweet again.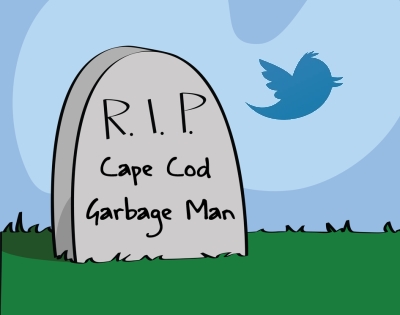 Facebook: The Real Cape
Twitter: Hippie - Insane Tony