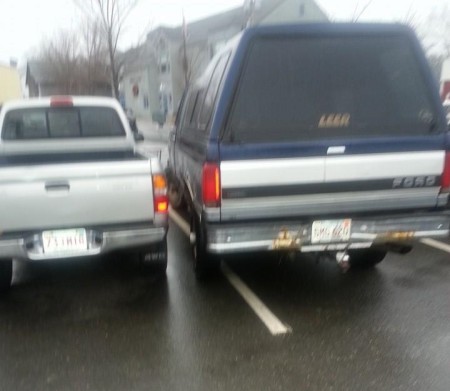 MV Patch.com – Park in front of a bike rack? Straddle the lines at Stop & Shop or Cronig's? Block driveways, intersections and other cars?

Sure, you can do it here on freewheeling Martha's Vineyard. Just be prepared to have your vehicle photographed and posted on the "Bad Parking on MV" Facebook page, along with some tart comments from eyewitnesses and others who belong to the 543-member open group.
Now this is a fantastic idea! There is nothing worse than someone who parks like an asshole, it can ruin your entire day. The driver of that pick up truck on the right in the photo above is just an absolute sociopath with an utter disregard for human life. That guy NEEDS to be shamed. So if you are on The Vineyard you should join this Facebook page immediately, and if you are in a town that doesn't have a bad parking page you should start one up.
Assholes everywhere have been flouting the rules of society with no consequences for long enough. It is time we stand up to these savages and show them they will no longer get away with these atrocities. We may not be able to sentence them to stoning in public anymore but we can do something much worse, we can sentence them to be publicly ridiculed on Facebook.
Facebook: The Real Cape
Twitter: Hippie - Insane Tony