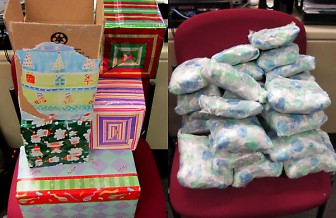 Capecodtoday.com – EAST WAREHAM – A USPS delivery containing what looked like Christmas gifts contained a lot more, according to a Wareham police release. Last Thursday, the United States Police Office delivered a package to the home at 96 Plymouth Ave. in East Wareham.

When a resident of the home, 23-year-old Zachary Driscoll, took delivery of the package, police executed a search warrant, arresting Driscoll and seizing the package.

Inside the package, police found 25 individual plastic bags containing a combined 8 to 10 pounds of marijuana.

Police estimate the street value of the marijuana at $18,000 to $20,000.
Only Wareham criminals are dumber than Cape criminals. Wrapping the weed you are sending through the U.S. Mail to look like Christmas presents is going to get you caught 94% of the time. Everyone knows that a Christmas present is typically 68% more valuable than a regular package. Since 37% of mail carriers open 28% of the more valuable packages 42% of the time, Zachary Driscoll had a 100% chance of getting caught. That's not opinion, that's mathematics.
P.S. 10 pounds of weed valued at $20k is why Wareham is Wareham. They are the only people in the United States still smoking Mexican brick weed with branches in it and shit. Homeboy was probably gonna break all ten pounds down to dime bags that actually cost $10 because nobody told him it's not 1983 anymore.
Facebook: The Real Cape
Twitter: Hippie - Insane Tony