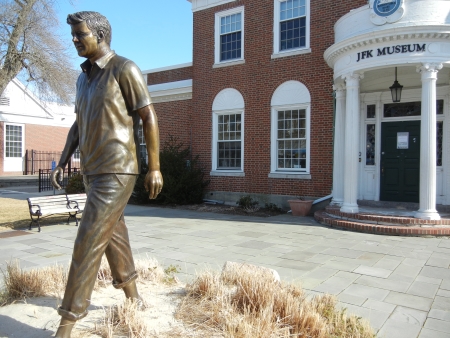 Capecodtoday.com – On this day in 2003, the Barnstable Town Council approved sculptor David Lewis' revised design for a statue of John F. Kennedy to be placed in front of the JFK Museum.

The original design of Kennedy and his son, John F. Kennedy Jr., as grown men set off an uproar that extended well beyond the Cape. Critics argued such a scenario never occurred, since the younger Kennedy was 3-years-old when his father died in 1963.
Of course the original idea of JFK Jr. and JFK as grown men side by side was rejected. There is no possible way the world could handle that much swagger at once. Humans probably wouldn't even be able to look directly at such an exhibit or they would go blind like it was an eclipse.
Just looking at JFK by himself in that photo put me at half mast. Throw Jr. into the mix and I'd be helpless. I can't imagine what would happen to women in the presence of both JFK's in their prime. I'm guessing any female that came within an eight mile radius of the JFK library would become pregnant instantly. They would have to install troughs full of morning after pills on the streets of Hyannis to keep the population under control.
Facebook: The Real Cape
Twitter: Hippie - Insane Tony