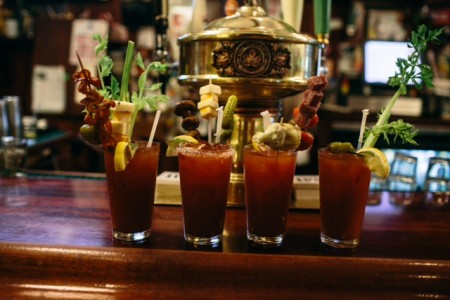 It's back to reality on Tuesday, so you better take full advantage and get in a Sunday Funday to remember. Go build yourself some memories of that time you had the best Bloody Mary on the planet and listened to special guest Daniel Byrnes playing some killer acoustic music at Liam Maguire's on Main St. in Falmouth.
It's going down right now, 12-3. If you aren't drinking by now on the Sunday of Labor Day weekend then you are doing it all wrong. Go out with a bang and build one of these… that's a memory you'll NEVER forget!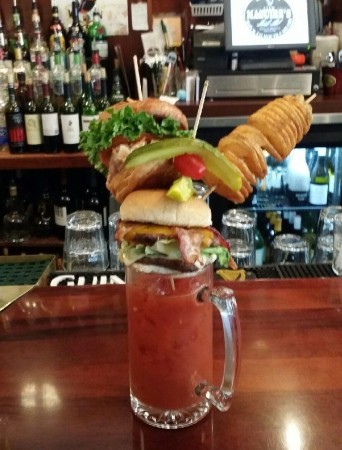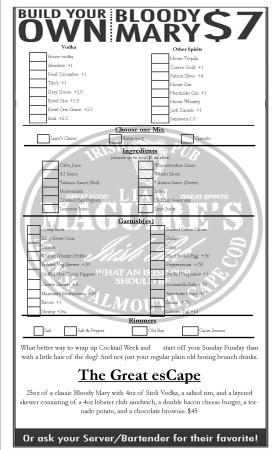 Sunday Brunch
Breakfast Burrito
Scrambled eggs, bacon, cheese, and two hash browns with an avocado chipotle aioli.
Irish Breakfast
Two eggs cooked to order, two rashers, two bangers, black and white pudding, home fries, and a fried tomato. Served with brown bread.
Crab cakes Eggs Benedict
Two English muffins topped with jumbo crab cakes, Irish bacon, poached eggs and our own homemade hollandaisesauce. Served with home fries.
French Toast
Three slices of thick cut Sourdough bread dipped in our own cinnamon French toast batter. Served with a side fresh fruit.
Chicken & Waffles
Habanero Guinness waffles with two fried chicken breasts, smothered in Southern style white gravy, made with our own bangers. Served with REAL New England Maple syrup and pickled vegetables.
Facebook: The Real Cape
Twitter: Hippie - Insane Tony