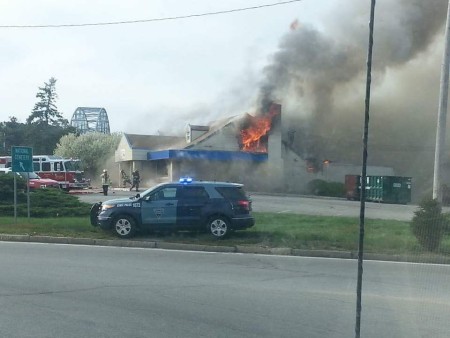 CapeCodTimes.com – Shortly before 5:10 p.m. Friday, a driver passing through the Bourne Rotary saw smoke rising from the former IHOP restaurant building and called state police.

Across four lanes of traffic leading up to the Bourne Bridge, troopers only needed to look out the windows of the state police barracks to see the smoke for themselves.

Within minutes, Bourne firefighters responded to find light smoke rising from the side of the building facing the rotary. But through the front door, Deputy Fire Chief David Pelonzi could see flames inside the building, which was under construction as part of Cape Cod Enterprises Inc.'s efforts to transform the site into its sixth Dunkin' Donuts franchise in Bourne.
So we write a post about how awful of an idea the new Dunkin' Donuts at The Bourne Rotary is and the very next day it's engulfed in flames? I don't know about you but… I SMELL A CONSPIRACY! Just like when the tanker tried to murder the Cape Cod bushes, we have compiled a list of suspects…
Suspect #1 – Our Mortal Enemies – Could it be somebody that hates The Real Cape burned it down to make us look like suspects? Maybe The Fun Police are tired of us calling them out? Maybe a gang of Piping Plovers did it because they are sick of us saying we want our beaches back? It might even have been some clairvoyant Sturgis person that knew I would write a few jokes about them that would make their heads explode? All I know is that it's a good thing everyone here at The Real Cape has a rock solid alibi.
Suspect #2 – Wareham – I don't even have a theory for this one, but Wareham is always a suspect… always.
Suspect #3 – Stan – Maybe we have a crazed fan like Stan in that Eminem song? He might be sending letters we aren't returning and thinking this is the only way to get our attention? All I know is that my tea's gone cold and I'm wondering why, I got out of bed at all…
Suspect #4 – The Wax Paper Company – They are probably pissed that Dunkin' stopped giving out wax paper when you get a honey dipped, a coffee roll, or anything else sticky. Does Dunkin' management not understand how awful it is to eat a sticky donut with paper napkins stuck all over it? I've had to resort to ripping up the bag and using it as wax paper like some kind of barbarian, JUST GIVE US THE WAX PAPER!
Suspect #5 – God Himself – This could just be another attempt to keep the heathens on the mainland away from his perfect creations on the chosen peninsula. This is just another step in his plan to isolate the center of the universe from the masses and create an advanced Utopian society on Cape Cod.
P.S. We probably shouldn't rule out electrical fire quite yet either.
Facebook: The Real Cape
Twitter: Hippie - Insane Tony