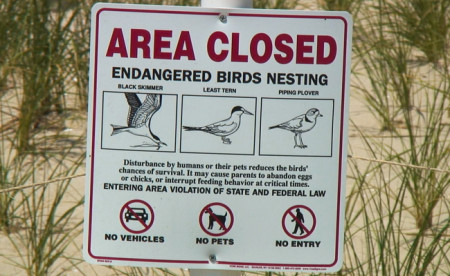 ACK.net – The Trustees of Reservations, which oversees much of Great Point and the Coskata-Coatue Wildlife Refuge along with the Nantucket Conservation Foundation, has announced that piping plovers, a threatened bird species, have made their annual spring arrival on the island, but vehicular access to the point remains open, and will likely remain so for another month or more.

Fred Pollnac, the new Nantucket superintendent of the Trustees, said habitat fencing has been erected in several places along Coskata-Coatue, including The Galls, with reduced speed limits established.

The birds have not yet started making nests, he said. When they do, usually around early to mid-June, vehicular access to the point could be closed, while pedestrian access will remain open.

Piping plovers are small, sand-colored birds that often nest and hatch near vehicle tracks, and are very difficult to spot with the naked eye.
And so begins the Cape and Islands Lottery. Where will they nest this year? Will they take up residence on your favorite spot at your favorite beach? Will you show up one day to the same spot you've been going for 20 years only to find ropes keeping you out? Will some tiny bird that is not even close to endangered in other places on earth completely ruin your summer?
Just remember, they are very small and sand colored. Very hard to see. Nobody could possibly blame you if you accidentally stepped on a Piping Plover. Not only because they are so camouflaged, but who would even suggest doing something like that on purpose? It's unfathomable.
P.S. Are you new here and feel bad for Piping Plovers? CLICK HERE
Facebook: The Real Cape
Twitter: Hippie - Insane Tony