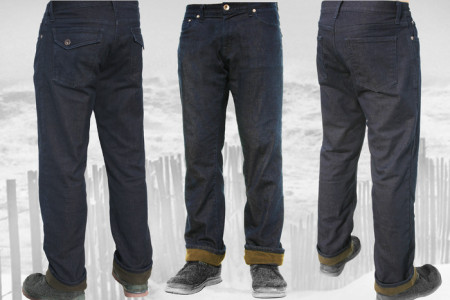 Capecodonline.com – ORLEANS — For too long, humankind has suffered under the oppressive yoke of lined jeans that are bulky and stiff.

But now an enterprising surf shop owner and his compadres have tested the limits of pants physics in an epic quest for the perfect cold-weather pair.

The secret? Make 'em stretchy!

"These things are literally like butter," said Shawn Vecchione, as he high-kicked around his Orleans surf shop. "I could sleep in them and be comfortable."

Vecchione, owner of Vec Surfboards, was wearing a prototype pair of the Nor'Easter brand fleece-lined jeans that he helped design. He said he had been wearing the same pair almost continuously since October, shucking them only for washing.

When friends try a pair, "The first thing they say is, 'I can do yoga in these,'" Vecchione said. "They're that stretchy."
Oh man are these things right in my wheelhouse. No joke I have been wearing the same pair of jeans every day since October. The only other pants I ever put on are my fleece NoGo pants. I named them this because when I have my NoGo pants on at home it means there is NO chance of me GOing anywhere. My point is that these Orleans Nor'easter Jeans have the potential to be game changers. A combination of jeans and NoGo pants? Yes please!
The part that supposedly makes them so much better than other lined jeans is where I get lost and start to question this though. Stretchy? You can do Yoga in them? Regular lined jeans do kinda suck and I love the idea of stretchy pants, I really do. In the winter I can gain 7 pounds in an hour just by having a pastrami sandwich and four beers at lunch. This stretchiness could potentially keep me out of jail because I won't have to undo my button and loosen my belt in a public establishment anymore, but I just don't think I can be seen in public in Yoga pants. I have a reputation on this peninsula and going to the bar in a pair of Lululemons isn't going to maintain it.
If, on the other hand, these Nor'easter Jeans look and feel just like normal jeans on the outside then we have a deal. I need to get my hands on a pair of these things ASAP, and I will make a promise to all of you Cape Cod winterites who are equally perplexed and excited by the possibility of wearing your pajamas and jeans simultaneously on a daily basis. My promise is that if I get my hands on a pair of these I will put them through rigorous Cape Cod winter testing by laying on my couch for hours as well as sitting on the hardest of bar stools drinking and eating like a slob for entire afternoons.
Once I have come to a conclusion, I will let you all know if our prayers have truly been answered and someone has really come up with the perfect pants for winter on Cape Cod.
Facebook: The Real Cape
Twitter: Hippie - Insane Tony