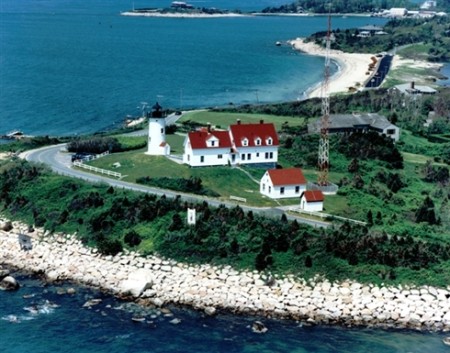 CapeCodOnline.com – WOODS HOLE – Nobska Point Light will continue to be a beacon for sea travelers in Vineyard Sound but a different landlord might be in charge of putting the property in shipshape condition.

The Coast Guard has started the long process of selling the lighthouse and the attached residence at 233 Nobska Road. Although the Coast Guard will continue to run the light and foghorn at the top of the structure, which rests on the east of Woods Hole's harbors, it has determined the site is no longer needed and wants someone else to take over stewardship of the buildings.
This might make a better Real Cape headquarters than our original plan at the Shop Therapy building in P-Town. Imagine the absolute throw downs we could have if we owned Nobska? The Fun Police would probably have to set up a special task force to combat the awesomeness that would emanate from the area.
First order of business would be to install beer taps in a 360 degree circle around the base of the lighthouse. We would replace the light with a strobe and swap the foghorn for a live band. It would basically be an episode of Pimp My Lighthouse. Imagine the looks on the tourists faces when they round the corner to take photos and come upon a strobed out, pulsating, disco lighthouse with beer flowing out if it like milk from the teets of a cow?
Some would be scared away, but some would stay forever.
Facebook: The Real Cape
Twitter: Hippie - Insane Tony