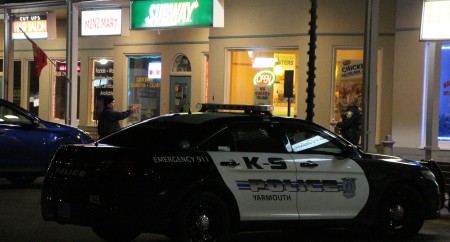 photo: Robert Bastille
HyannisNews.com – Jody Ashkenazi says it was ESP which led him to check in on a girl working behind the counter at a nearby sandwich shop last evening.

Ashkenazi was visiting a friend working at a nearby store when he saw "something fleet by," immediately sensing something was wrong with the girl working at the neighboring Subway sandwich shop.

According to Ashkenazi, he possesses "extreme ESP" powers and he suddenly became overcome with a heavy feeling something was wrong.

"My ESP felt her pain," said Ashkenazi.

Moments earlier, Ashkenazi had observed two young males lurking outside the sandwich shop. One went inside as if to order a sandwich, while the other waited in the shadows a few doors away.

The young man that entered had ordered up a sandwich with all the fixings, only to grab it and run away without paying. Ashkenazi had no way of knowing this had just occurred because he was in the shop next door. But he couldn't shake off the strong feelings something was wrong with the girl making the sandwiches – a girl who had been a complete stranger up that point.

Ashkenazi told HN he is proud man who is compelled to do good, which is why he couldn't overcome the need to at least go in and speak with the Subway girl.

So, he entered and found her alone hard at work behind the counter as if nothing had happened… which he initially found strange because his ESP is usually very accurate. But when he asked her if she was okay, that's when she "burst into tears," according to Ashkenazi.

Police arrived and took the report… but other than the witness statements, they had very little else to go on.
HN was driving back toward HyTown and just about crossing the town line when Mr. Ashkenazi alerted police and pulled off his second good deed of the evening. According to radio traffic, he was secretly following two young males he believed to be the culprits in the earlier sandwich heist.

Yarmouth patrol officers converged on the area, met up with Ashkenazi, and told him they would take over from that point. Ashkenazi remained nearby to ensure they didn't need further assistance when officers detained both suspects on the Bass River Bridge, the town line between Yarmouth and Dennis.
I know, I know, it's a long one, but it's a good one. It takes a special kind of ESP to see two kids bolting away from a Subway and make the connection that they just stole something, I'm talking some serious voodoo shit.
What more proof do you need that this guy is a clairvoyant than the fact that he was able to tell there was something bothering a teenage girl that was teetering on the cusp of bursting into tears? Teenage girls are famous for their Stonewall Jackson level skills when it comes to hiding their emotions, but ESPete straight snatched her brainwaves right out of the air and broke the case wide open.
What is really impressive about this guys special powers though, is that he was actually able to recognize two the kids that he had seen less than an hour before and turn them in. What being of this earth wields such power!?
I don't know about you, but I feel safer knowing the sub whisperer is out there, with his giant magic brain, protecting us all from the dangers that our feeble minds can't even comprehend. Thank god he is a "proud man, compelled to do good" and would never try to use a sequence of coincidental events to feed his delusions of grandeur. That would really suck.
Facebook: The Real Cape
Twitter: Hippie - Insane Tony