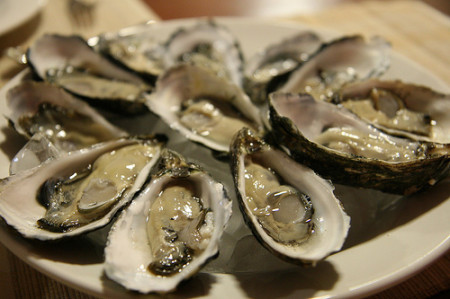 CapeCodOnline.com — A West Yarmouth man has been indicted in the theft of more than $40,000 worth of oysters and equipment from beds off Dennis and Barnstable last summer.

And a well-known Sandwich fish market owner pleaded guilty Friday to a charge of receiving stolen property in connection with the case.

Michael Bryant, 37, was indicted by a Barnstable County grand jury Friday on six counts of larceny of property, a shellfish sales violation, shellfishing a contaminated area and a commercial fishing license violation. Bryant will be arraigned "in the upcoming days" in Barnstable Superior Court, according to a statement from Cape and Islands District Attorney Michael O'Keefe.

"He's certainly been arrested many times," Barnstable police Lt. Sean Balcom said of Bryant.

When Balcom said in January that the case was close to being solved, he noted that "where (the suspect) sold the oysters is going to come as a pretty big surprise."

Joseph Vaudo, a 62-year-old Sandwich businessman who has owned Joe's Lobster Mart for more than 35 years, pleaded guilty Friday in Barnstable District Court to charges of receiving stolen property, willfully misleading police during an investigation and failure or refusal to file required statistical reports of wholesale and retail dealers.

Vaudo was ordered to pay $6,250 in fines and court costs.

Balcom, head of the department's detective unit, said Vaudo was uncooperative when questioned by police. "He denied having bought anything (from Bryant), he denied knowing Bryant, and he denied Bryant came out of his business despite the fact we saw otherwise from the surveillance," Balcom said.

Balcom added the market owner's problems may be far more severe than the fine he was charged by the court. Vaudo is both a retailer and wholesaler. "He could face significant problems with his permits to buy shellfish and operate his business."
We posted about this story a while back so I figured we should probably do a follow up now that the alleged masterminds have been exposed. When the story first broke we talked about how stealing shellfish equipment and oysters on Cape Cod should result in a scarlet letter. It takes a special kind of douchebag to steal a blue collar working man's tools. Stealing his oysters sucks for sure, but stealing his ability to continue to make a living is fucking deplorable.
That said, the oyster thief is not the biggest douche in this story. That crown goes to Joseph Vaudo. Listen, there will always be shit bags stealing from people. No doubt it's a shitty thing to do, but this Bryant guy is just a low life who is doing what low life's do. Vaudo on the other hand fucked over the very community that supports his business. Honest hard working people are working their ass off to provide him with the shellfish that he sells to other honest hard working people under the pretense that he is buying them from the honest hard working people in their community. Joe's Lobster Mart buying stolen shellfish at a discount and selling them at regular prices is offensive on many, many levels.
Unfortunately Joe's Lobster Mart will probably survive because of the money he makes from tourists who will never know and probably don't care about this story. Even though this may be the case, there is no excuse for any year round resident to ever do business with this man again. We are calling for a full on boycott of Joe's. Please share this, spread the word about this guy and BOYCOTT JOE'S LOBSTER MART! Let's show Cape Cod business people they can't fuck over the communities they do business in without repercussions.
Facebook: The Real Cape
Twitter: Hippie - Insane Tony