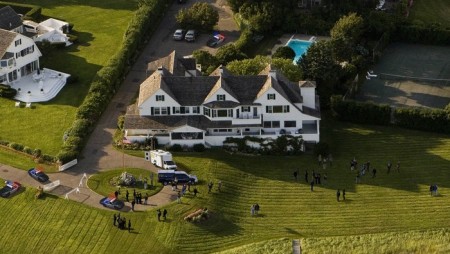 Onion – In a surprise predawn raid Monday, heavily armed FBI agents stormed the notorious Kennedy Compound in Massachusetts, reportedly arresting more than two dozen key members of the faction and exposing many of the bizarre inner workings of this insular fundamentalist organization.

According to officials, agents in full SWAT gear disembarked from patrol boats just off Cape Cod and quickly advanced upon the 6-acre oceanfront compound. The raid followed a multiyear investigation into illicit activities by the secretive Kennedy group, which are said to have included substance abuse, rampant promiscuity, and carefully formulated plans to seize control of the United States.
Well, well, well. The Kennedy's sure have been getting a ton of press lately. Teens dating pop singers, dudes trying to find Katy Perry on the compound, Ethel challenging Obama to an ice bucket challenge. Maybe I was right and they are grooming a Kennedy to restore Camelot!
How else do you explain all of these stories popping up recently and keeping them in the news. Mark my words, we are one Marilyn Monroe away from another JFK coming out of nowhere. Bring back the swagger and you bring back Camelot.
P.S. If you comment or email us complaining about the validity of an article in The Onion then you need to do some serious soul searching.
Facebook: The Real Cape
Twitter: Hippie - Insane Tony