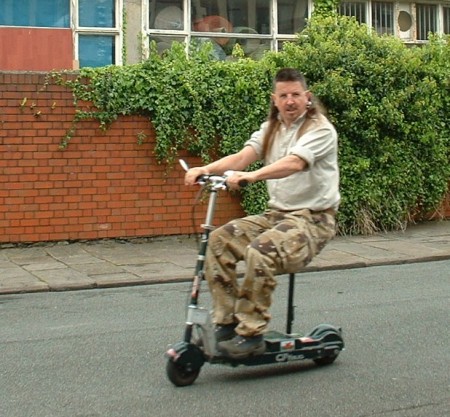 (Yes, we know that's not him, but it popped up after a "scooter no helmet" search, and it's glorious)
CapeCodTimes.com – David Fournier, 25, of Provincetown pleaded not guilty Monday to several charges after being arrested Saturday for riding a moped after his license had been revoked, according to court documents.

After his arrest he cut himself and scrawled swastikas on the glass of a police cruiser, according to police. Truro Police Sgt. Carrie DeAngelo stopped Fournier on Commercial Street in Provincetown at 12:47 pm Saturday because he was not wearing a helmet while riding a scooter, according to a police report. Fournier told her he didn't need a helmet because the scooter was electric and didn't go over 20 mph, according to the report.
I'd never condone this guys actions, but he didn't really have a choice here, he had to do something insane after his arrest. You can't just waltz into the clink and tell your fellow inmates that you're in for not wearing a helmet on an electric scooter that only goes 20 mph. Not if you don't want to immediately become someone's bitch you can't.
This dude knew he had to spice up his story or he'd be giving his mashed potatoes and a reach around to every inmate on cell block 4. When you paint yourself into a corner with a scooter helmet violation you'd damn well better slice yourself open and start finger painting some good old fashioned Nazi symbols. That's crazy Cape Cod criminal 101.
Facebook: The Real Cape
Twitter: Hippie - Insane Tony