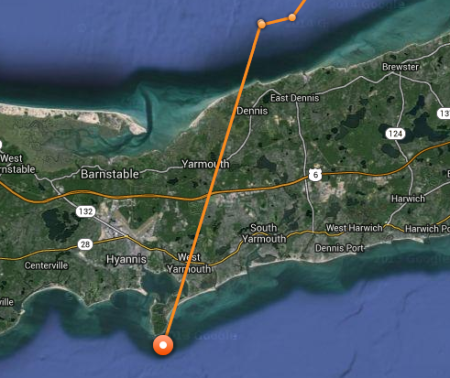 Holy shit, she came all the way around the arm of the Cape overnight! (the orange lines connect the pings by timeline, not route, she isn't walking on land… YET!) I'm starting to think Kate the Great is taking a liking to our harbors. She seems to be circling the Cape, almost like she is stalking something on land… or someone!?
Do you think she got wind of my blogs about my irrational fear of sharks and all the bad mouthing I've been doing about Great Whites? Is she coming for me and my family Like in Jaws 4 "The Revenge" when Jaws kills chief Brody's son and then follows the Brody family to the Bahamas and stalks them?
All I know is I'm keeping one eye on that OCEARCH site and the other on my front door all day today. Call me paranoid but this bitch is cray! Just look at her pings from 2013 before I started talking shit about Great Whites…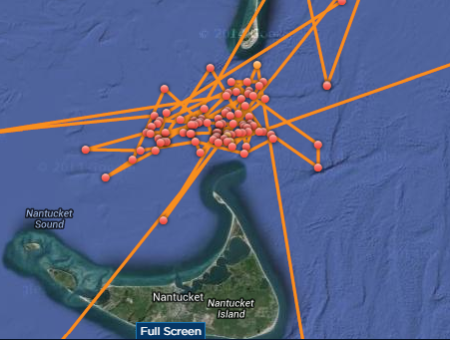 Now look at her 2014 pings and tell me this killing machine isn't circling the Cape and stalking the shit out of me…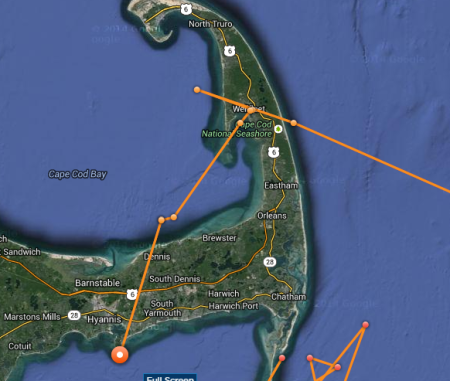 I don't care what anyone says, this beast is looking for someone, sharks don't just swim up to Wellfleet Pier that far inland, take a quick peek at Dennis and than circle all the way around to Hyannis headed to Falmouth. This slut is on a mission and if the next ping isn't further away from land so am I. I'll be on I80 headed to Oklahoma so fast you won't even remember I existed, no way I'm sticking around to face this pissed off people eater…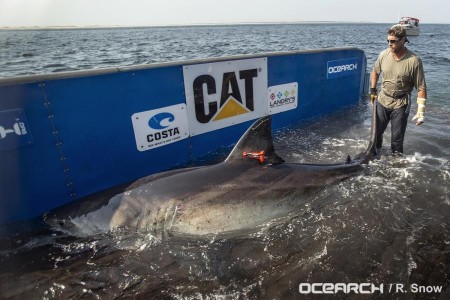 I'll be sure to update everyone the next time she pings, but be warned, if this fucker is any closer to my house than she is now we will all be reading "The Real Tulsa" come this time tomorrow.
Facebook: The Real Cape
Twitter: Hippie - Insane Tony