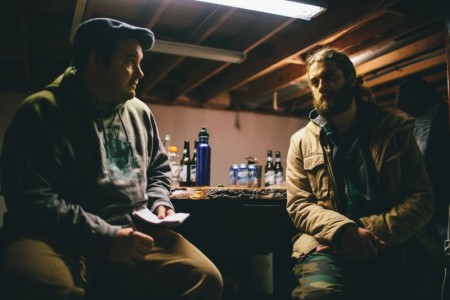 A table full of empty Busch bottles and cigar guts, no this is not Hippies creative writing room. This is where shit gets done. I had the opportunity to stop by "The Dungeon" and sit in and listen to one of the Capes unique hip hoppers Phaze Dass. Phaze is one third of the group and hip hop brand One Life. Phaze is the farthest thing from your prototypical "rapper". Joey Linnane is his birth given name.
With the help of producer/beatologist Legacy, Phaze is finishing up a solo album. Rapping since 2005, Phaze has a passion and fire for hip hop that is very apparent in his songs. Major influences of his include Kurt Cobain, 2Pac, Nas, Eminem, and Mick Jagger. That just gives ya a taste of his diverse rap lyrics. He has opened up for such legends as Raekwon from Wu Tang and Boston hip hop legend Ackrobatik.
This local talent is all about keeping the Cape hop scene alive. "We just need more venues to perform at" Phaze told me. So local music venues just to let you know the talent is out here, they just need a stage. Phaze and the One Life crew are performing tonight @ Club NVy (located behind the Falmouth Inn). This is Valentines Bash with 5 local hip hop acts and hosted by Professa Dank. This is am 18+ show with I.D. So all you youngins that have no romantical plans get on over and check out Phaze, the One Life crew and the other local talent.
GET OUT AND SUPPORT LOCAL MUSIC!
Facebook: The Real Cape
Twitter: Hippie - Insane Tony

More Articles From The Real Cape: