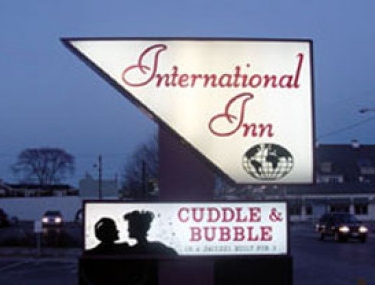 BarnstablePatriot.com – Officer Steve Maher, another liaison to the licensing authority, presented reports of numerous calls to the Inn for a variety of reported crimes, including drug dealing. As he and the board questioned Ravi Ahuja, who attended as manager of the Inn, it became apparent that there was a disconnect between the authority's expectations and what's been going on at the inn.

"I'm disgusted by all the activity happening here," the authority's Ron Semprini said.

"What are you going to do to clean up this place up?" asked board chair Martin Hoxie.

The authority suspended the Inn's alcohol and entertainment licenses for five days… The suspension will not affect rental of rooms.
Well isn't it ironic that this story finds its way to us today? On the most cheesy romantic day of the year, the most cheesy romantic hotel on The Cape faces alcohol and entertainment license suspensions.
You have to love the shock coming from the licensing authority on this one. Hey Ron, you are "disgusted" by the activity at an hourly rate hotel that is a hotbed of casual encounter Craigslist hookups? Newsflash bro, scandalous shit goes down in the place that advertises itself as a den of iniquity and has for years.
And how about the guy who asks what they are going to do to "clean the place up"? Ummm… same as we always do pal, an entire bottle of bleach in the hot tub, burn the sheets and wait until the next Ron Jeremy stumbles into the lobby with the coke whore he picked up at Shanghai.
This system has been in place for years. Try and change it all you want fellas, but if you are truly "shocked" that it's happening then you might want to try and get your finger closer to the pulse of the town you govern, because you are more out of touch than Hall & Oates.
P.S. There can be no mention of Cuddles and Bubbles without this video (0:50 to 1:08 mark are MUST WATCH)
Facebook: The Real Cape
Twitter: Hippie - Insane Tony