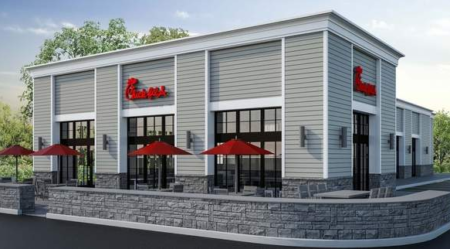 HYANNIS —The Chick-fil-A fast food restaurant chain has received approval from the Cape Cod Commission to open its fourth stand-alone Massachusetts location in Hyannis.

The 5,219-square-foot restaurant with a drive-through window will be located at the intersection of Enterprise Road and Iyannough Road (Route 132), on a leased 1.74-acre parcel previously designated as overflow parking for the Cape Cod Mall.

The regional regulatory agency issued a certificate to Chick-fil-A last week, signed by Paul Niedzwiecki, executive director of the Commission, confirming that the project complies with the Barnstable County Regional Policy Plan.

The privilege of selling its signature chicken sandwiches, waffle fries and salads on Cape Cod will carry an added price tag for the chain, over and above construction and operational costs.

Chick-fil-A will be required to pay $25,886 to the Town of Barnstable Affordable Housing Growth Development Trust Fund, as well as $258,000 in traffic mitigation costs, according to terms outlined in a transportation improvement program attached to the certificate.

Chick-fil-A has already received approval from the town of Barnstable Zoning Board of Appeals, is fully permitted from a zoning perspective and is expected to receive its building permit soon, according to Elizabeth Jenkins, principal planner for the town of Barnstable.

Chick-fil-A is known almost as much for its conservative Christian beliefs and politics as it is for chicken sandwiches.

The restaurant chain was boycotted in 2012 for the anti-same-sex marriage sentiments of its president and the millions in donations the company made to anti-gay organizations.The controversy prompted the late Boston Mayor Thomas Menino to tell the chain that it was not welcome in the city.

"To glorify God by being a faithful steward of all that is entrusted to us and to have a positive influence on all who come into contact with Chick-fil-A," is the chain's corporate purpose as stated on its website.
So if you pay a few hundred thousand bucks, you get approval, and screw the gays huh? That's the way we're doing things here on the Cape now? Seems fair to local small businesses. Even Mumbles Menino had the balls to stand up to Chick Fil A and he probably thought it was a gas station that only hot girls work at. Well, at least the Cape Cod gays know their exact dollar value now, maybe we should start a Gay Fund Me account and see if we can raise more than the $258,000 to keep Chick Fil A off the Cape.
You have to wonder how far this paying cash for permits method the Cape Cod Commission has adopted will go? If Hitler's Lampshade Emporium gives Yarmouth a few hundred thousand bucks will they be allowed to open as well? Maybe we could launch a Kony's Kids Child Development School in Chatham. How far on the wrong side of history does something have to be to get rejected? If we just do away with morals altogether we could be as rich as Dubai and pave Rte. 6 with solid gold.
What you really have to love though, is the "corporate purpose" statement on Chick Fil A's website… "To glorify God by being a faithful steward of all that is entrusted to us". They really need to add… "except for chickens and fags, we'll just stuff those into tiny coops and not let them get married".
P.S. The bottom line is that this company does its best to help impair the basic civil rights of a section of our population simply because they are different. So screw them. Plus, without gays how would we know if our belts match our shoes?
Facebook: The Real Cape
Twitter: Hippie - Insane Tony