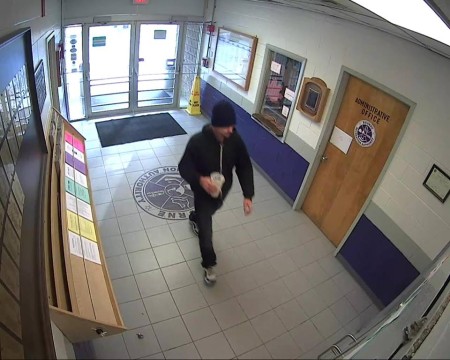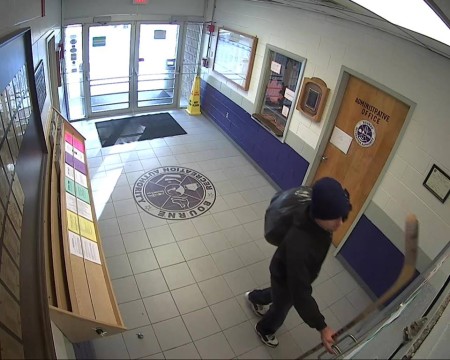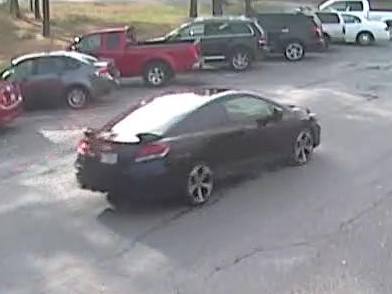 BPD Facebook – The Bourne Police Department is looking for information regarding the identity of the male in the attached surveillance images. These images were taken this morning at Gallo Ice Arena on Sandwich Rd.

The male in the video is suspected of entering the ice area, removing car keys from multiple lockers and proceeding to the parking lot where he used the keys to gain entry into the vehicles and steal items from them. The male is then seen leaving the area in what appears to be a new model dark colored Honda Civic Coupe.
When looking at the image please pay close attention to the sneakers, clothing, and vehicle. The second image shows the male entering the rink with a hockey stick and a garbage bag to blend in with the skaters at the rink.

Please contact the department at 508-759-4451 if you have any information that can lead to the identification of this person. You can also private message us or email us at [email protected] . Please do not put names in the comments. Thank-you for your assistance.
Are you shitting me? Our keys aren't safe in the locker room while we are playing hockey now? This is getting ridiculous, someone please ID this guy so they can lock him away. The hockey rink is a sacred place around here, the locker room is a sacred institution no matter where it is. This can not stand!
This guy should be praying the police find him first. Imagine if the guys he robbed while they were playing pick up hockey got a hold of him? They'd beat him with his own stick and put him in that trash bag he walked in with.
Facebook: The Real Cape
Twitter: Hippie - Insane Tony