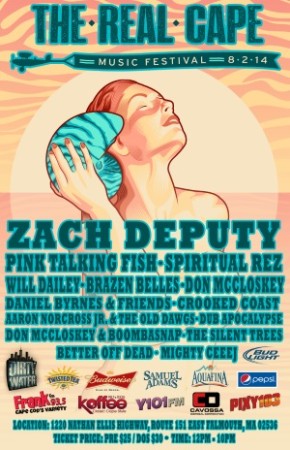 Here it is folks. The band schedule for Saturday's festival. There are two stages so the energy will never stop, talk about a day jam packed with amazing music. This is gonna be a doozy.
If there's a better way to spend this Saturday on Cape Cod I'd like to see it. Remember it's not just music, there will be all kinds of live art going on around the grounds including glass blowing, screen printing, sculpting, henna tattoo, we've got tons of the coolest vendors showing off their swag and of course plenty of food and beer. Lots and lots of beer.
Kids under 12 are free, you can bring in chairs, blankets etc. Get your tickets now because they are only $25 in advance but $30 at the door. Or for the ultimate experience check out our VIP packages.
Facebook: The Real Cape
Twitter: Hippie - Insane Tony