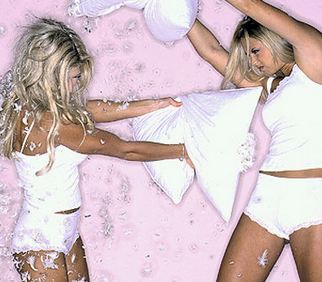 CapeNews.net – Nu Psi, the Cape Cod chapter of Sigma Phi Gamma international sorority, will be holding a meat raffle fundraiser on Saturday, November 22, at the Bourne VFW, 180 Shore Road in Bourne, from 3 to 7 PM.

Sigma Phi Gamma is a non-academic, nonprofit organization that gives women the opportunity to meet and make new friends while serving their communities.

Proceeds from the projects benefit needy families by helping them buy food, clothing and toys for children during the holidays.
First things first, there are sororities that have nothing to do with a college? What the hell do they do? Do they all live in the same house and if so where the hell is it? If not then where do they have their lingerie pillow fights? If you take away the lingerie pillow fights I'm pretty sure you can't call it a sorority by law.
As if that's not confusing enough, now we throw in a meat raffle and a VFW? What planet are we on? A non collegiate sorority is holding a contest with war heroes to win dead cows?
I'm not sure if you've noticed, but I don't really have anything to say here, just a billion questions. This is so preposterous that when I was writing the title I was thinking that nobody would believe it's actually real, it's like an Onion article or something. Seriously… a sorority, red meat, and soldiers of war. Seems legit…
P.S. How awesome would it be if when vegetarians died they ended up trapped in VFWs at meat raffles for all of eternity?
Facebook: The Real Cape
Twitter: Hippie - Insane Tony