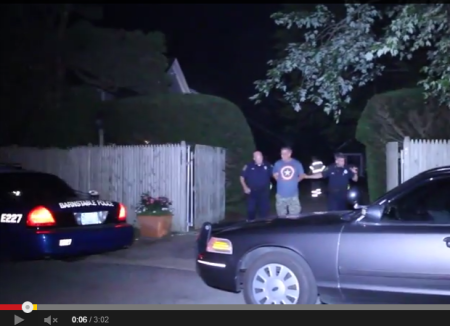 Hyannisnews.com – At about 9:30pm, Barnstable and Massachusetts State Police rushed to 111 Irving Ave after receiving a call from Ted Kennedy Jr. about a man inside his home.

Ted Kennedy Jr. was not at the Hyannisport address, but rather at his home in Connecticut. He was calling because he was very worried about the possibility of his 16-year-old son being alone inside his Hyannisport home with an intruder.

When Kennedy called the home to check on his teenage son, a stranger answered. Kennedy reportedly spoke with an adult male who identified himself as "James Lacroix." Neighbors say they saw the strange man pull into the driveway driving a black Corvette around 6:30pm. When police officers later arrived at about 9:30pm, after being called by Kennedy, one patrolman observed the intruder inside the kitchen area of the home (according to radio transmissions and press release…). Police quickly moved in.

When questioned, the man said he was looking for singer "Katy Perry" according to police sources…

James Lacroix, age 53, was arrested and transported back to Barnstable Police Headquarters where he was charged with "Breaking and Entering in the Daytime." Lacroix will be arraigned in Barnstable District Court later this morning.
Apparently, Captain America here spent 3 hours in Ted Kennedy Jr.'s house looking for Katy Perry. Is it possible that he was  just completely delusional for 3 straight hours, or is there something to this story we don't know? It's not like this is some vagrant, Dude Guy showed up in the middle of the day in a Corvette and seemed awfully calm while he was being arrested.
Here is what we know…
Teddy Jr. was in Connecticut.
Teddy III was at the Cape Cod compound.
Katy Perry Has amazing boobs.
Could Teddy III be the ultimate Kennedy Cocksman? Is he banging Katy Perry in Hyannis while Jr. is in Connecticut? I mean who leaves a 16 year old alone in a different state? I'm not saying for sure that Katy is banging a 16 year old Kennedy, all I am saying is that I have a feeling we haven't heard the last of this story.
Facebook: The Real Cape
Twitter: Hippie - Insane Tony