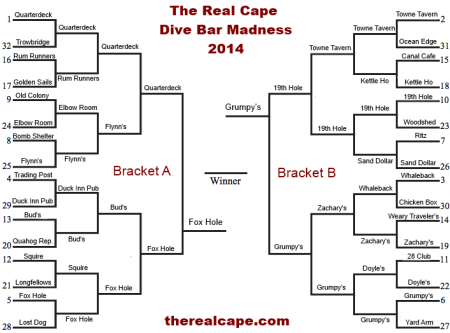 There have been a ton of ups and downs, but anything can happen in single elimination bracket style tournaments. They don't call it Madness because of its predictability.
In the Final Four the Fox Hole handily defeated the #1 seeded Hyannis Quarterdeck in what was a surprise to many. Grumpy's and The 19th Hole had a hard fought back and forth battle. Neither one left anything on the field and both should hold their head high. In the end Grumpy's prevailed and made the final game.
So without further ado, we give you the Cape Cod Dive Bar Tournament Finals, vote and share away!
Facebook: The Real Cape
Twitter: Hippie - Insane Tony