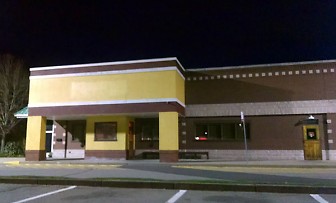 CapeCodToday.com – If you are a frequent visitor to the Route 132 corridor in Hyannis, you probably already know the Outback Restaurant in Festival Plaza is closed. The sign is down and the windows are shuttered. Not a g'day if you are in the mood for a Bloomin' Onion®.

It is hard to pinpoint the exact day the location closed without confirmation, but it has been a good few weeks at least. A server at a close-by Hyannis restaurant said the scuttlebutt is that the Outback staff was brought in one day and unceremoniously given the boot. It is unclear if any of the staff were offered positions at other Outback locations.
Good riddance. I've never understood why places like this survive for a minute on Cape Cod. It's not like we have a shortage of great locally owned places to get steak around here. I understand that the chain restaurants are cheap, but not all locally owned restaurants are expensive. For instance, why would anyone go to 99 when we have places like Bobby Byrne's, or J.R. Brody's, or any of the hundreds of other local establishments whose owners live and pay taxes in our community? There are many that are reasonably priced, so cheap can't be the only factor.
Look, I get that these places employ local people, this is nothing against the staff of The Outback or the 99 or any other chain. They are local hard working people that would find a job at a local restaurant if chains didn't exist. This is about keeping your money local on a grander scheme, but it is mostly just about food quality.
If you go to one of those local restaurants I listed you will get higher quality, tastier, healthier food while supporting local business. It seems like a no brainer. Who wants to go to a cookie cutter place that could just as easily be in New Jersey as it is on Cape Cod just to get steak tips that look like marbles on an upside down frisbee? It just makes no sense to me.
Eat local, eat well, and don't Jersey The Cape!
P.S. 99 does have gigantic beers, so they do have that going for them.
Facebook: The Real Cape
Twitter: Hippie - Insane Tony