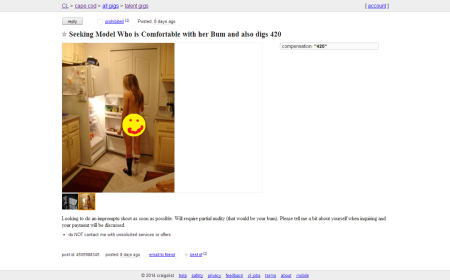 CL Seeking Model Who is Comfortable with her Bum and also digs 420

Looking to do an impromptu shoot as soon as possible. Will require partial nudity (that would be your bum). Please tell me a bit about yourself when inquiring and your payment will be discussed. compensation: "420"
Just to recap, this guy is looking for girls that will let him take photos of their butt and accept weed as payment. You have to respect this dude. This is a man who knows exactly what he wants and exactly what he will pay to get it. This is a Cape Cod renaissance man. He loves his weed and a good derriere. Everyone has their thing.
This is a diverse peninsula we are living on folks. In what other place do people from such different walks of life brush shoulders so often (besides Twitter)? Some people like 17th century literature and vintage port wines, some people like pot and ass. The only question left is, which side are you on?
Facebook: The Real Cape
Twitter: Hippie - Insane Tony
More Articles From The Real Cape: