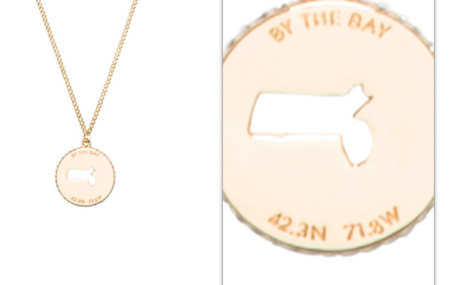 ML – Kate Spade's pendant of Massachusetts is missing part of the Bay state — Cape Cod.

The "state of mind" pendant has "by the Bay" engraved at the top and most of the state but is missing the hook-shaped peninsula.

Reviewers took notice of the missing peninsula on their site.

"Was looking at the Massachusetts pendant to buy but realized they cut off cape cod, cape cod is a part of the state and where I live. How can you sell a Massachusetts pendant without cape cod," jenny89 wrote.
What in the holy hell is this crap? The sun finally comes out, The Real Cape staff is is hard at work taking motorcycle rides and going fishing and this comes across the wire to interrupt our day? This is possibly the most egregious, heinous, unacceptable and insulting thing that has happened on earth since JFK told all of Germany he was a jelly doughnut.
Leaving Cape Cod off of this pendant is like leaving the torch off the Statue of Liberty, or the penis off of Michelangelo's David. It's the most important part. That's right, I just said we are the penis of Massachusetts, and to remove us from the state's likeness is to remove its manhood. I'll just come out and say it, Massachusetts without Cape Cod is impotent.
Oh and this Kate phony? The founder of "Kate Spade New York"? She's from Missouri and went to Arizona State. No wonder she's dumb enough to leave Cape Cod off of a pendant, Arizona State is easier to get into then a Wareham girl.
Facebook: The Real Cape
Twitter: Hippie - Insane Tony