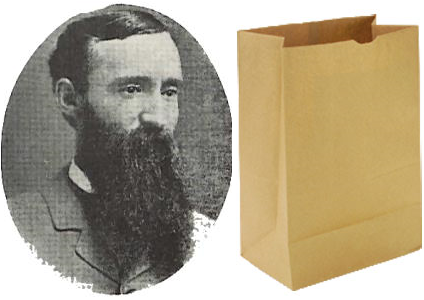 CapeCodToday.com – On this day in 1873, Luther Childs Crowell was granted a patent for a machine to manufacture square-bottom paper bags.

Before we were all asked the question "paper or plastic", Luther's design was the only grocery carrying vessel available. In fact, the same design is still used to this day.

According to the website CapeCodHistory.us, Crowell, who lived in Wellfleet, was granted 293 patents in all.
Cape Cod, Fuck yeah!
Holy shit are we on a roll or what? Not too long ago we found out that Cape Cod invented the banana and now we find out we are responsible for the brown paper bag as well? Is there nothing The Cape can't do? This place is electric!
Why is this stuff not required teaching in our schools? Every one of my books was covered with one of Luther's bags for cripes sake. Why didn't anyone tell me that the bag I was doodling pot leaves and World War II battles on originated right here on Cape Cod. Maybe teenagers wouldn't have so much of a burning hatred for this peninsula if they knew more about its bad ass history. Screw kettle holes and glacial erratics, teach the kids about Luther Crowell and The Banana King! (I love you Mr. Crocker)
As a matter of fact, I think we should change the name of brown paper bags to "Cape Cod Bags". We've got tons of products with geographical names. There's "Buffalo Wings" and  "Neapolitan Pizza", why shouldn't there be Cape Cod Bags?
So next time they ask you what type of grocery bag you want in the checkout aisle, just say "I'll take a Cape Cod Bag"! If someone asks if you buy your lunch every day say no, "I Cape Cod Bag it"! When you see an embarrassed fan in the stands of a game, say "look at that guy with the Cape Cod Bag on his head"! And last but not least, when giving tips on making guacamole, tell people "you know what works great to ripen Avacados? A fuckin' Cape Cod Bag is what"!
P.S. Luther's beard/hair part combo is absolutely LETHAL!
Facebook: The Real Cape
Twitter: Hippie - Insane Tony