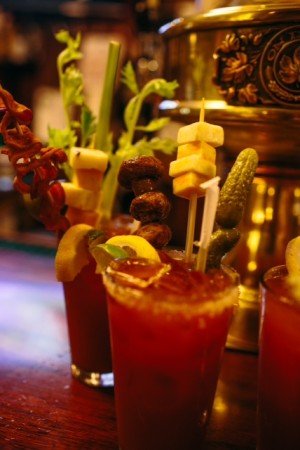 It's that time of the week again; time to roll your way to Liam MaGuire's for amazing food and glasses filled with things you didn't know fit into glasses, suspended above the sweet nectar that comes from the make-your-own Bloody Mary bar. As if anything is more persuasive than food and booze, there's also live acoustic music. Seriously, look at this thing: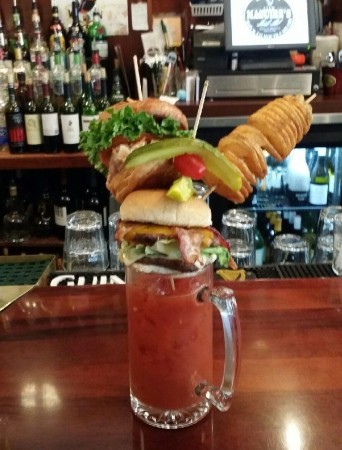 I'd trade my first born for one of those. The brunch runs from 12 noon to 3 pm, at 273 Main st. in Falmouth. I would not lead you astray when we say that you really need to try these Bloody Mary's to appreciate them. Also, let's be real, you don't have anything else to do.
Here is the entire build your own bloody menu in all of its glory followed by a bunch of food selections…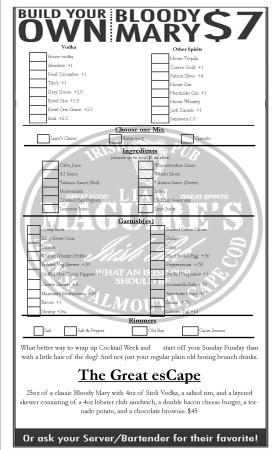 Sunday Brunch
Breakfast Burrito
Scrambled eggs, bacon, cheese, and two hash browns with an avocado chipotle aioli.
Irish Breakfast
Two eggs cooked to order, two rashers, two bangers, black and white pudding, home fries, and a fried tomato. Served with brown bread.
Crab cakes Eggs Benedict
Two English muffins topped with jumbo crab cakes, Irish bacon, poached eggs and our own homemade hollandaisesauce. Served with home fries.
French Toast
Three slices of thick cut Sourdough bread dipped in our own cinnamon French toast batter. Served with a side fresh fruit.
Chicken & Waffles
Habanero Guinness waffles with two fried chicken breasts, smothered in Southern style white gravy, made with our own bangers. Served with REAL New England Maple syrup and pickled vegetables.
So the bottom line here is that this is going to be an absolutely perfect way to knock the cobwebs off from Saturday Night and start Sunday Funday with a bang. The Real Cape will be there, will you?
Facebook: The Real Cape
Twitter: Hippie - Insane Tony