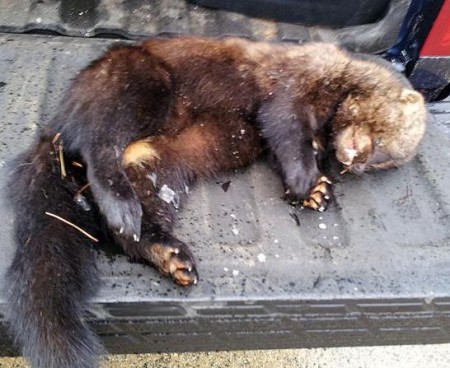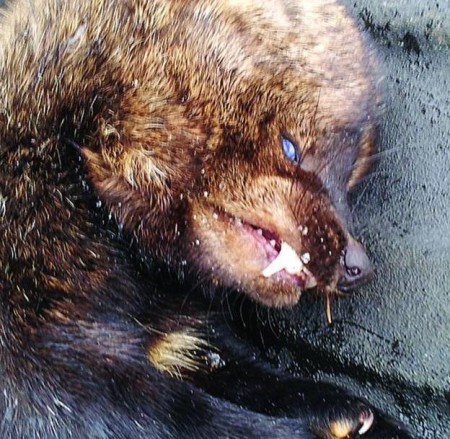 Photos via Mashpee Police Department
CapeNews.net – Geoff Spillane – A rare fisher was found dead in Mashpee on Wednesday.

Commonly referred to as a "fisher cat," the animal is known for its sharp fang-like teeth, unsheathed claws, and vicious demeanor.

Mashpee Police Lieutenant John Santangelo said that he has never seen a fisher—dead or alive—in Mashpee during his 25 years on the force.

The animal was found on Palmer Road, not far from the Quashnet and Kenneth C. Coombs schools.

Deborah R. Millman, director of the Cape Wildlife Center in Barnstable, said that fishers have established a population on the Cape, but there are not many here. She advises residents to keep small animals and cats indoors.
Well, this pretty much ends the small dog/big dog argument for anyone around here right? I don't care how much you love your friends Shih Tzu, if you are in the market for a puppy on Cape Cod you just have to go big at this point.
Last night I turned on the outside light by my back door and I saw a coyote setting plates on a picnic table while a bobcat opened a bottle of wine and a fisher cat basted some type of small roast. Now I can't say for sure what they had for a main course, but let's just say there was a small pile of Hot Diggity dog collars in a pile by a tree.
What I'm trying to say here is that while Beagles and Yorkie's may be cute, they are also like butterball turkeys to our current array of Cape Cod wildlife. So unless you are looking to spend hundreds of dollars on a Thanksgiving dinner for a fisher cat, I suggest you stick with something at least the size of a Labrador. At least that way you won't have to explain The Pilgrims AND death to your 5 year old on the same day.
P.S. Those have to be contacts right? Monsters don't have eyes like the deep blue Caribbean Sea.
Facebook: The Real Cape
Twitter: Hippie - Insane Tony