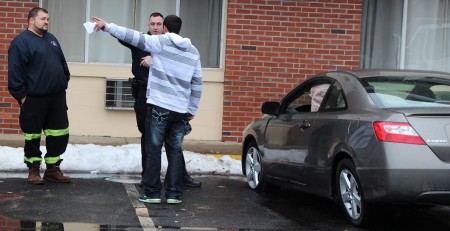 Hyannisnews.com – A car owner called Barnstable Police this morning claiming that someone had stolen his vehicle during the overnight. He also claimed the thief got in an accident, seriously damaged his vehicle and then returned his vehicle to its exact parking space outside his room at the International Inn.

Police quickly dispatched someone who wasn't born yesterday. Patrolman Keith Sexton arrived, examined the damage, examined the owner, listened to the story, he already knew he was being fed a load of bull.

Sexton intently and clearly made sure the reporting party knew it was a felony to make a false stolen vehicle report.

Even though the car owner still showed signs of being intoxicated from the night before… that combined with Sexton pointing out what appeared to be recent airbag burns on his face… despite all that, it didn't take long for the car owner to smarten up and change his story.
Ahh the old someone stole my car from a hotel room parking spot, crashed it, then returned it to the exact same spot before running away story. Police never get suspicious of crazy stories like that because everyone always tells cops the truth, so it's really surprising that this guy didn't get away with this.
Everybody knows that the International Inn is also known as Cuddles and Bubbles right? They have Jacuzzi's with mirrors all around them in every room. What I'm saying is there is one reason and one reason only to go there (wink, wink). With that said you have to feel for this dude a little bit. He was probably drunk and naked in a hot tub with a girl and 100% sure he was going to score until she informed him he needed to wear a condom.
Unfortunately a guy just can't reason with himself in a situation like that, your only move is to bee line it to a CVS before the moment passes. If you crash you just have to keep going and deal with it the morning. As far as your penis is concerned a couple of air bags smashing you in the face is not going to get in the way of sex in a Jacuzzi with wall to wall mirrors. This is simply a case of the reward massively outweighing the risk.
(the 0:50 to 1:08 mark in the video below are MUST WATCH)
P.S. Hyannisnews.com is the best news website on Cape Cod
Facebook: The Real Cape
Twitter: Hippie - Insane Tony