When you are called the God Father of anything it pretty much means you're a boss. Andrew Lowenstein is known here on Cape Cod as the Godfather of the jam scene. So all you young aspiring jam bands here on the Cape better get your work permit from the boss. Andrew's all about the music whether it be playing in one of his numerous bands, or doing the solo thing.
Most interviews I conduct for this section are through email or other technological avenues. Andrew's was amazingly different, I used this device called a phone. For those of you that don't look up from your screen, the phone is a device that allows you to actually talk and listen to another person without typing. I know ludicrous …right.
Back to the boss. Andrew tried out the vagabond rock and roll lifestyle for a bit but ended up back where his heart is… good ol' Cape Cod. Before settling down he traveled the world and toured the U.S with many different bands. He spent time in Oregon, Key West, Florida, Colorado, Lake Tahoe, California – always chasing the dream.
Now settled back on the right side of the bridges, the list of venues that he has played reads like a where's where of Cape Cod. Those venues include The Willow Field Tavern, Quahog Republic, The Hunt Club, Joe's Twin Villa, The Pilot House, Mashnee Island, and The Beach House to name a few. Some of the Bands that he has been involved in are The Triclones, Who's Your Daddy, Slow Children, Better off Dead, and my favorite The Whitey Tighties.
Many of the band mates that he has played with all hail from or live in the same general area. He refers to them as the Gypsy's of North Falmouth. He has been on the live music scene for so long , it's his turn to be "The old guy". When I asked what he thought of the current music scene here on the cape he said that it was "Inspiring". He also made it very clear the new age has to put in the work off the Cape, as well as here on the mother land.
So young musicians, listen to your godfather, put in the work, and bust your ass.
You can catch Andrew playing tonight and every Thursdays at The Beach House from 6 p.m.-9 p.m. (Old guy musician hours).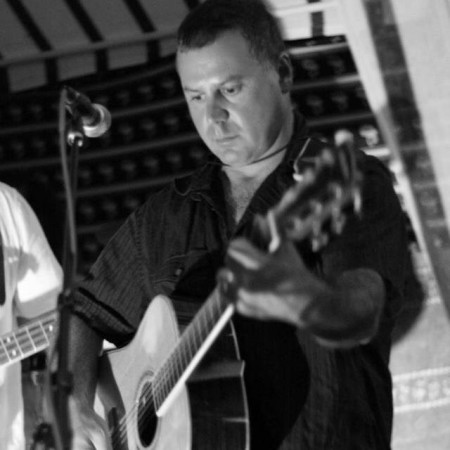 Facebook: The Real Cape
Twitter: Hippie - Insane Tony