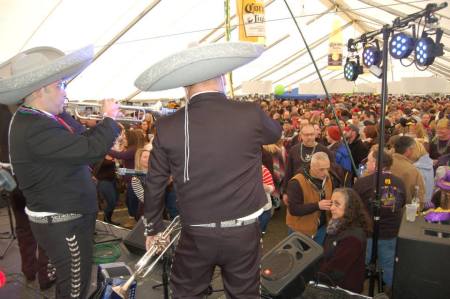 I know what you are saying. "The Real Cape is a sponsor of The mvyradio Big Chili Contest this year? But won't the earth explode?" Yes, yes we are, and yes, yes it will. Of course we'd get on board with the biggest, best, and most famous winter party in all of the land. It's a match made in… the Corona factory.
If you've been to The Big Chili Contest then you know what this means. If you haven't been, then I feel sorry for you. It is quite simply the biggest party on The Vineyard and all of Cape Cod all winter long, and it is set to be held this year on Saturday January 24th at 10 am. This is one of those "you have to see it to believe it" events. The Ferries are packed, the people are fired up, and the vibe is electric.
In addition to great Chili, there is also great music and dancing provided by The Mariachi Mexico Lindo Band,  Johnny Hoy & the Bluefish, The Baha Brothers Jimmy Buffet Tribute Band and the Cape's DJ Alvzie spinning all your favorites.
As most of you know, The Big Chili Contest is so popular that it WILL sell out, but don't worry we'll tell you exactly how to get tickets in a minute.
First, there are still slots available for contestants, both professional and amateur. If you are a restaurant and you want people on the Cape and Islands to know you exist, then this is a perfect way to do it. Anyone who's anyone is eating chili at the Big Chili contest, this is THE food event in this area. There are all sorts of prizes, including cash and all that jazz, but the amount of fun and exposure is worth it on its own.
If you'd like to be a part of this year's event as a Contestant, send an inquiry to Greg Orcutt at [email protected] or Jen Toppin at [email protected] or call 978-210-1828.
Now to the important part, TICKETS! They can be purchased online by CLICKING HERE, but hurry up because there aren't many left.
On the island tickets are available at Shirley's True Value in Vineyard Haven and at Trader Fred's in Edgartown.
On the mainland tickets are available in two locations at two different times. On this Friday January 9th (tomorrow) you can get tickets in person at The Beach House in North Falmouth. You need to be there by 6 pm sharp, and they will go fast so you may even want to get there early.
If you miss that one, tickets will be available in person on January 20th at The Quahog Republic in Falmouth as well. We will have times and details on that one coming soon.
We will have more info and updates coming on the entire event as well, but that's the pertinent information for now.
more details available at mvyradio
Facebook: The Real Cape
Twitter: Hippie - Insane Tony