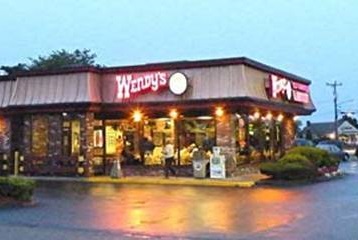 CCT – If you are in Hyannis and hankerin' for a Frosty®, you are out of luck for a little bit. The Wendy's Restaurant on Route 132 at the Hyannis Rotary has been closed for a spell, undergoing a multi-level brand transformation according to franchisee Ernest Smily.

"It is very different from what our customers in Hyannis are used to, but we think they will really like the fresh look and feel of the new Hyannis Wendy's," said Smily, who has owned the franchise for nearly 30 years.

Smily said the target date to reopen is April 6.
Well it looks like I won't be going out in Hyannis anytime soon. You Hy Town residents might not realize this, but for people that don't live there, going to Wendy's at 1:30 a.m. is like 89% of the appeal of going out in Hyannis.
The night of our Wailers show at Pufferbellies, I swear the drive thru line at Wendy's was like 30 cars deep. I ate three Hot and Juicy 1/2 Pounders before we even got our change at the window. I don't know what it is about booze and fast food, but they go together like peas and carrots.
I don't care who you are or how pretentious you are about eating your all natural, non GMO bird food. Have a few Jack and Cokes in Hy Town and you'll be knuckle deep in a Bacon Deluxe before you can say Supersize Me.
Drunken late night Wendy's is one of the most wonderfully disgusting pastimes of going out in Hyannis. Meaning, it's wonderful at the time and disgusting when you wake up the next morning.
Facebook: The Real Cape
Twitter: Hippie - Insane Tony