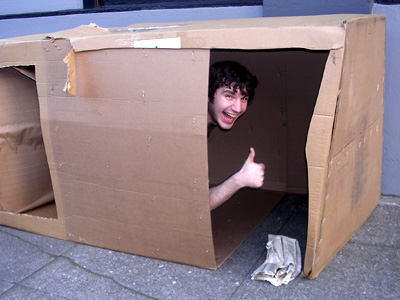 PROVINCETOWN — A Provincetown native wears a dapper hat with a feather stuck in its side and smiles as he drains a can of beer on a bench in front of Town Hall one morning in late October. He's recently been released from a three-year stint in prison and is homeless. He and two other men have been living in what can be considered a small tent village on the beach behind the post office. The chill in the air doesn't bother him yet — he's got a gas heater to keep warm and a grill for cooking.

The problem, he says, is that there's nowhere for the homeless in Provincetown to go — and he sure doesn't want to stay in the shelter in Hyannis — so what's a man to do?
Is this the bizarro world? Am I taking crazy pills? "The problem he says, is that there's nowhere for the homeless in Provincetown to go"??? Bro that is the definition of being homeless. You have no home. Once you make the decision to be devoid of a home and become homeless you are signing on to have nowhere to go.
If you did have a place to go, I don't know, say a HOME. Then by definition you would not be a homeless person. You can't have your cake and eat it too, quit being so selfish. You can't call yourself homeless AND have a home. Shit doesn't work that way. You don't see me calling myself a double amputee while flaunting my two perfectly good legs in your face running marathons and shit do you?
P.S. You wear a dapper hat with a feather in it's side while smiling and drinking a beer in front of Town Hall in Provincetown. Somewhere some guy laying in sewage drinking his own piss under a bridge in the Bronx is reading this article because it's printed on his blanket and he is cursing your wussy ass Cape Cod homeless name.
Facebook: The Real Cape
Twitter: Hippie - Insane Tony