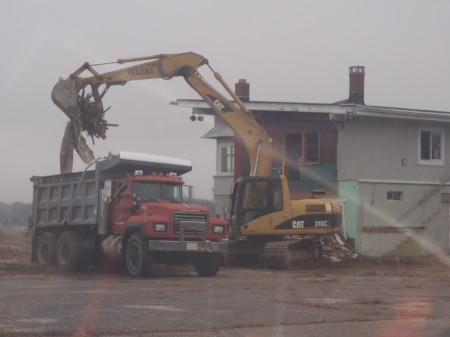 Today is a bittersweet day for us as fans of The Quahog Republic. While we congratulate them for their victory at the WMVY Big Chili Contest yesterday, we also bring this photo of their original location being torn down.
The OG Quahog Republic, A.K.A. The Mashnee Island Beach Club, was a classic tale of the fun police taking a gem from us. The place was an absolute blast. The owners, the staff, the entertainment, the food, the patrons and the location all combined for one of those "lightning in a bottle" situations.
Unfortunately on Cape Cod if you have too much fun and too much of a good thing it will soon come to an end. The neighbors started complaining and eventually drove the normal, fun loving people out. R.I.P. OG QR, you had a good run and provided us with a lot of memories.
P.S. Fuck the fun police!
Facebook: The Real Cape
Twitter: Hippie - Insane Tony